If you're an adventurous foodie and enjoy dining with a cultural flair, then check out Fort Wayne's first Ethiopian cuisine at Queen of Sheba Restaurant.
Named after the real-life Queen of Sheba of the Ethiopian region in Africa, this new eatery on the north side of the city showcases a variety of aspects of Ethiopian culture.  Soothing music and exotic scents greeted me as soon as I stepped into the small but warm and cozy dining room.  There were beautiful handicrafts and pictures decorating the walls and corners, and the hostesses provided cheerful and speedy service.  One wall even served as a chalkboard menu, featuring drinks and ala carte items in colorful chalk.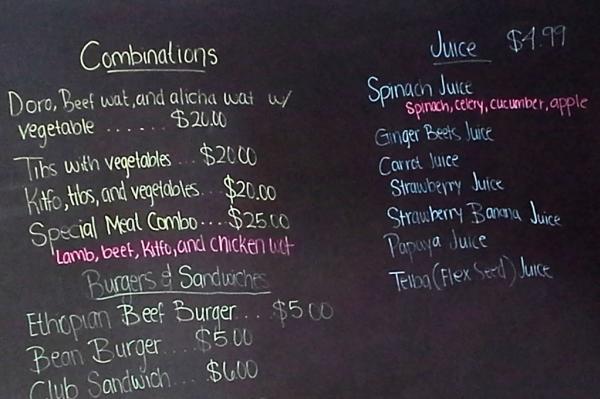 I was seated next to a display of Ethiopian coffee that had been prepared in a coffee ceremony, using copper and wooden cookware.  (In case you weren't aware, coffee was first discovered in Ethiopia.)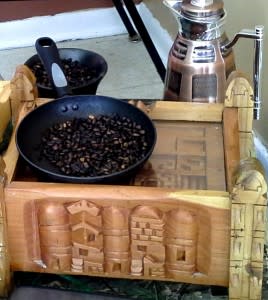 I'd only eaten Ethiopian food once before, so I wasn't quite sure what to order.  Luckily, the bilingual menu and hostesses' t-shirts, all written in English and Amharic, helped explain the dishes. I was hungry, so I ordered 2 dishes – Ezekiel Stew, which contains 16 kinds of grains and beans, and Yedoro Kitfo, a bowl of ground chicken accompanied by spinach and enjera bread. (Read more about Ethiopian food here.)  Both dishes were hot and fresh but were much too large for one person, so I took home the leftovers.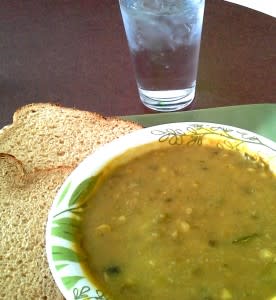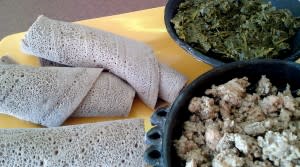 Because the portions are large and the dishes are a bit pricy, Queen of Sheba would be a great place to share a meal with friends or on a date.  A couple next to me and a group of college students across the room did this and were having a fun time sampling different foods. Even though Ethiopian food may not be for everyone, I highly recommend visitors pop into this place to stretch their tastebuds.  With appetizers ranging from vegetarian to spicier meats, and a unique variety of juices, visitors are bound to find something to like while appreciating the cultural environment.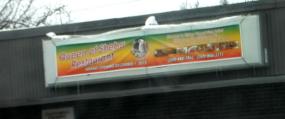 The Queen of Sheba Restaurant is open 7 days a week, with a vegetarian lunch buffet on weekdays.  (Closed on Friday mornings.) It is located at 2805 E. State Blvd., in Beacon Plaza (formerly Lemongrass). For more information you can call Queen of Sheba at (260)498-7862 and the other is (260)804-3111.