Are you looking for a fun night out on the town? Something you could do with the whole family or just the girls or that special someone? The movies are the perfect night out regardless of who you are going with, and Fort Wayne has six different movie theatres each with a little something different about them to meet your movie going needs!
The Regal Coldwater Crossing on Washington Center Road is a great place to get your favorite movie snack, bag of popcorn and kick back to catch the latest movie you have been wanting to see. Regal shows the most recent flicks and also shows 3D movies as well.
If you are looking to catch an independent film or something that might not come to larger theaters, be sure to check and see what is playing at Cinema Center.  This theater is a not-for-profit film society that brings the best of independent, foreign, documentary, classic and specialty films that otherwise might not be shown in northeast Indiana. Looking for some thought provoking discussion on films? On the third Sunday of the month after the 2pm matinee, the Cinema Center Education Committee hosts an informal post movie conversation.
Three dollar movies can't be beat at Starplex Cinemas Coventry 13! This theater does not feature the newest movies, but if you are willing to wait to see the popular flicks or want to watch your favorite again, you can catch them for less than half the price. Coventry 13 is a great place to take a large family or even take the kids and their friends for a movie birthday party.
One of the best parts of the experience of going to the movies is getting a big bag of popcorn to munch on throughout the showing. Typically, some extra buttery popcorn hits the spot, but if you are looking to expand your tastes in popcorn, go to Carmike Cinemas where they offer gourmet popcorn at the theater!
Dinner and a movie always make for a great date night so why not combine the two! Northwood Cinema Grill offers the latest movies with a great selection of food and a full wait staff to serve you while you enjoy the show.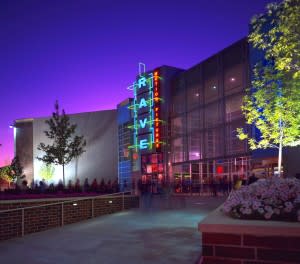 There is nothing like seeing an action packed flick in the theaters, but have you ever felt like you are part of the movie? Rave Motion Pictures at Jefferson Pointe has an IMAX theater that does exactly that! IMAX is the ultimate movie experience. These theaters are specifically designed to deliver the world's most immersive movie experience. IMAX theaters create the IMAX experience making audiences feel as if they are in the movie!
Rave Motion Pictures 4250 West Jefferson Boulevard (260) 432-1732
Northwood Cinema Grill 6069 Stellhorn Road (260) 492-4234
Carmike Cinemas 30 East Dupont Road (260) 373-0868
Cinema Center (Downtown) 437 E Berry St # 1 (260) 426-3456
(Indiana Tech) 1600 E. Washington Boulevard in the Andorfer Commons
Starplex Cinemas Coventry 13 5495 Coventry Lane (260) 436-6312