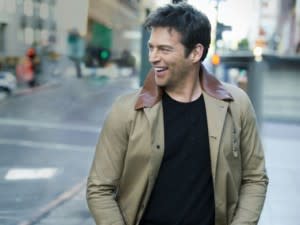 On October 20th Fort Wayne will be graced by the one, and only,
Harry Connick Jr.
at the
Embassy Theatre
. There's just something classic about the smooth, yet edgy sound of Harry Connick, Jr.  That sweet, southern boy charm combined with the voice of a classic crooner is irresistible to women all over the world while that "guy's guy" sense of humor makes every guy want to be his friend.  Harry Connick Jr. is simply a delight and we couldn't be more excited that he's coming to Fort Wayne! With over 25 million albums sold, Connick is known for hits like "It Must Be Love" from the When Harry Met Sally soundtrack and "Just the Way You Are" from the 2009 album, Your Songs.  Celebrating his current album, "Every Man Should Know", full of original music, Connick says in the liner notes that he wrote with "No rules and no limits".  In true Harry Connick Jr. fashion, the album is getting good reviews and I am hoping to hear some of the new tunes when her performs here in Fort Wayne. Connick Jr., who's known for interacting with his audiences, is sure to be a crowd pleaser.  With a mix of good southern charm and a slightly sarcastic sense of humor, Connick is funny and delightfully entertaining taking his audience with him on his journey through the music.  Seeing Harry Connick live is something you simply don't want to miss! Harry Connick Jr. will perform live at the Embassy Theatre in downtown Fort Wayne on October 20th at 7pm. Tickets are on sale now - but get them soon, as they are going quick! You can order tickets online through
Ticketmaster
, or in person at the Embassy Theatre Box Office. For more information check out
Visit Fort Wayne
or the Embassy Theatre
website
.
YOU CAN WIN TICKETS TOO! Check out the Harry Connick Jr. contest page on Visit Fort Wayne, and enter for your chance to win 2 tickets to the show, 2 tickets to the Fort Wayne Museum of Art, and 2 tickets to the Botanical Conservatory. You can enter to win until a winner is drawn on October 14th!