On Saturday, January 19, the Fort Wayne Derby Girls will kick off their 8th season against the Bleeding Heartland Rollergirls from Bloomington, Indiana.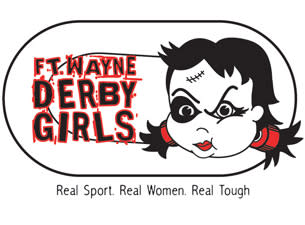 Founded in 2005, the Fort Wayne Derby Girls' mission is to encourage community involvement from all socio-economic groups in Fort Wayne and its surrounding communities. The league embodies the strength, courage, and vitality of Fort Wayne women but also serves to provide another form of semi-professional athletic entertainment to the Summit City.
Since 2005, the league has grown to include two teams: The SWAT Team and The Bomb Squad, the all-star traveling team that competes on a national level against leagues from cities all over the country. On Saturday, doors to the Coliseum will open at 5PM and the action will start at 6PM. Fort Wayne Derby Girls's SWAT Team will take on Bleeding Heartland's Code Blue Assassins, followed by the main event, Fort Wayne Derby Girls's Bomb Squad battling it out on the track against Bleeding Heartland's Flatiners. Tickets are $15 for adults or two for $25. Kids 5 and up are $7, five and under are free, and Seniors, college students, and military personnel are $9. If you get your tickets in advance, you can take advantage of a special two for $20 deal. Known not only for their hard-hitting action but for their charity driven mission, as well, the Fort Wayne Derby Girls have given over $110,000 to local women's and children's charities since May 2006. The charity for the January 19 bout is Noble House Ministries, whose mission is to provide a safe and nurturing environment for families and individuals overcoming difficulties, and to help those who wish to embark on a journey of rebuilding, learning, and recovering. All Fort Wayne Derby Girls' bouts are family-friendly, so bring the kids and enjoy a night of fast-paced, all-female roller derby!