I'm not a rib guy. I thought I should say that up front. Barbecue, though? I love barbecue. In fact, we find ourselves living in an "Age of Barbecue" here in Fort Wayne, and one of my favorite places to go for barbecue...well, pretty much anytime I can, is Shigs In Pit, located at 2008 Fairfield Avenue.
I like to think of Shigs as the CSI: Miami to Mad Anthony Brewing Company's CSI - it's a spinoff! Originally a three-man competitive BBQ team (and a successful one at that) of which Mad Anthony's owners are a part, the Shigs brand has grown to include not only that competitive team but also a restaurant and catering business. Now we get to see what folks all over the Midwest have known for years - these guys make a mean smoked meat.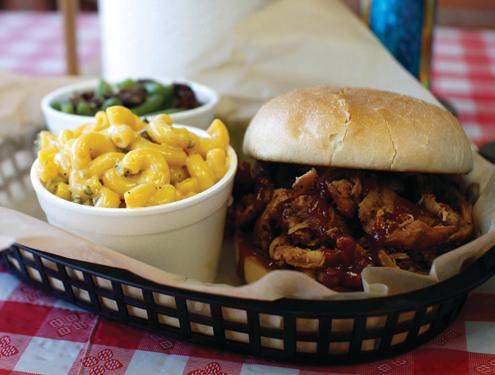 Going to Shigs for the first time can be a bit overwhelming because everything on the menu is so good. Have you ever seen Animal House? Do you remember the cafeteria scene where Bluto grabs just about one of everything as he walks down the line, loading up his tray and stuffing his mouth? That's how I feel when I walk in the place - one of everything, please. As I mentioned, I don't really like ribs - I much prefer pulled meats or, more specifically, pulled pork. Their pulled pork is fantastic. Shigs serves sandwiches (my preference) and dinner plates; they offer dinner plates with one meat or two, which is great if you're especially hungry or can't decide what to order. Sauces are bottled on the table, so you can try a little of each to see which you like best. Or you could just slather your sandwich in hot sauce like me and go to town. Honestly, though, my favorite entrée on the menu isn't the pulled pork, it's the ham po' boy. It is, for me, the perfect sandwich - smoked pit ham, Swiss cheese, Creole mustard, sweet pickle jam, and lettuce (no tomato). If I'm ranking local sandwiches, it's easily in my top three.
And man oh man, the sides. If that ham po' boy wasn't so darn good, I would seriously just make a meal of the sides. I can't pick one favorite, so I'm going to pick three:
1.      Apple pie baked beans - delicious, with just the right balance of sweet and kick
2.      Green chile mac 'n' cheese - so good we always think about buying a pint to take          home but are always too full to do it
3.      Corn "spoon bread" - moist, flavorful, eaten with a spoon. The best cornbread I          have ever had, hands down.

Banana pudding for dessert. Enough said.

So whether you're visiting us from out of town and like to eat local or you're a local looking for a new favorite restaurant, Shigs In Pit fits the bill. And don't forget, they also cater!