Whether you prefer a crisp hard cider, a classic Oktoberfest, or a seasonal wet hop IPA, breweries and cideries in Fort Wayne, Indiana are preparing some festive fall brews you have to try.
The flavors of fall are so distinct. And while pumpkin spice lattes and cozy fall coffees have their place (trust us, we love a good apple chai!), we're also excited to share some of the special fall flavors on tap around Fort Wayne. See what's brewing below, and grab a pint for yourself. Cheers!
Fall Brews in Fort Wayne, Indiana

Hop River Brewing Company
Special Fall Brews:
Astral Van | New England Style IPA (5.3%)
An intrepid constellation of starlit hop flavor. Space flavors include papaya, white grape, pineapple rind, and canned peach. Pop that sliding door and hop in!
Oktoberfest Bier | Marzen (5.75%)
Drink this in a tall stein, at a long table of new friends, while you sing and shout. Orange color, medium body, almost mythical malt complexity—but very, very drinkable.
Hop River Brewing Company
1515 N Harrison St., Fort Wayne, IN 46808
260-739-3931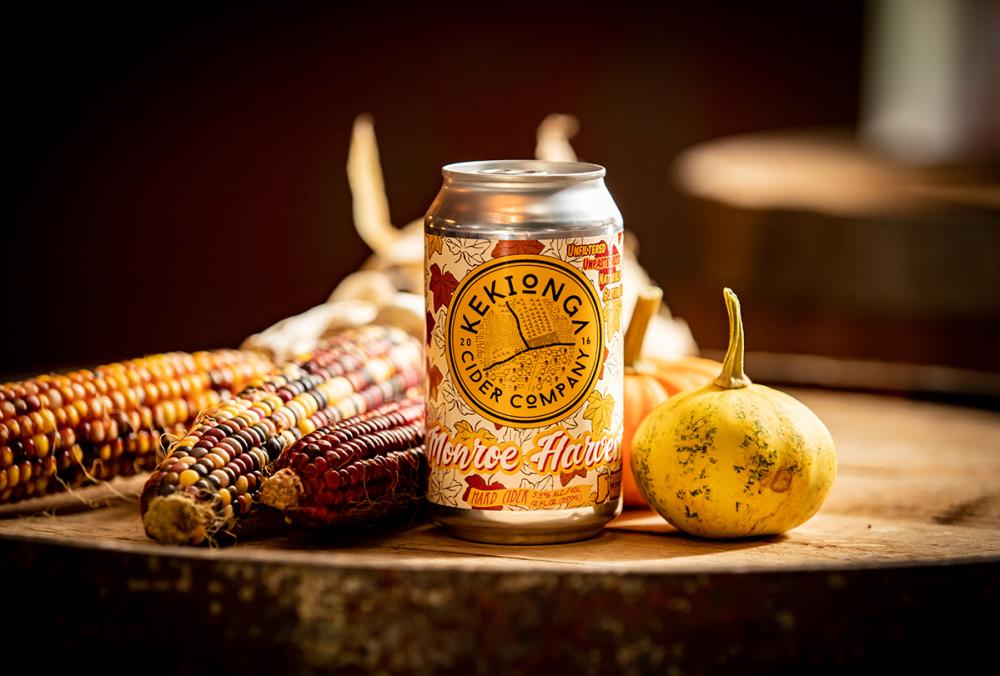 Kekionga Cider Company
Special Fall Ciders:
Apfelwein Cider
This German-style cider will be released at the Herbstfest autumn celebration on Saturday, October 10! Event details.
Monroe Harvest
Spiced cider with whole cinnamon and cloves.
Kekionga Cider Company
7328 Maysville Rd., Fort Wayne, IN 46815
260-749-8889
 
Chapman's Brewing Co.
Special Fall Brews:
Root9 Wet Hop IPA
This special brew will feature local hops from Root9 Hop Farm, just north of Columbia City. Wet hops are not dried and pelletized like industry standard so the hops must be taken immediately to the brewery and utilized in the brewing process (ideally) within the same day to ensure freshness and no deterioration of the hops. For this reason, wet hop beers are a seasonally available treat to the craft industry as they are tied to the harvest time of the hops themselves. On tap beginning October 9.
Oktoberfest
This fall favorite will be on tap starting at Chapman's beginning September 18!
Wry American Imperial Red Rye Ale
Official taproom release on October 23.
Chapman's Brewing Company – Fort Wayne Location
5735 Falls Dr., Fort Wayne, IN 46804
260-209-5048
Trubble Brewing
Special Fall Brews:
Riparian Buffer Imperial Brown Ale
Fraught with Perle Oktoberfest
Monster Smash Marshmallow Stout
And don't miss these Trubble Fall Events:
Trubble Brewing
2725 Broadway, Fort Wayne, IN 46807
260-267-6082
2Toms Brewing Company
Special Fall Brews:
Harvest Storm | Wet Hop IPA (7%)
Using hops harvested by 2Toms employees in Columbia City, then placed in the boil hours later. Wet hopped beers can only be produced once a year due to the harvest season of local hops! Come enjoy it while you can.
Tangerine-Apricot Hard Seltzer (4.5%)
Brewed in-house and uniquely co-fermented with fruit.
Just Mallow MallowScoop (4%)
An all-marshmallow tart refreshing ale. You have to taste it to believe it!
Funky T-Shirt Weather
A Brett barrel aged version of 2Toms' famous T-Shirt Weather, dry hopped with citra.
Additional fall brews include Nonsensical (a wheat wine), Chong IPA (the return of a Fort Wayne favorite IPA), and El Cucuy Mole Stout (a Mexican Chocolate Stout with 3 different kinds of peppers).
Plus, don't miss the upcoming Halloween release, featuring four beers based on famous cereals! The beers will be released on October 31 along with new music from Fort Wayne DJ, LUBS. Stay tuned!
2Toms Brewing Company
3676 N Wells St., Fort Wayne, IN 46808
260-402-7644