This Mother's Day may look a bit different than in years past, and we want to help you plan the perfect day just for mom in Fort Wayne! 
In this guide, discover ways to shop local for flowers and gifts, activities to do with mom, and carryout specials and sweet treats she'll love.
Celebrate Mother's Day in Fort Wayne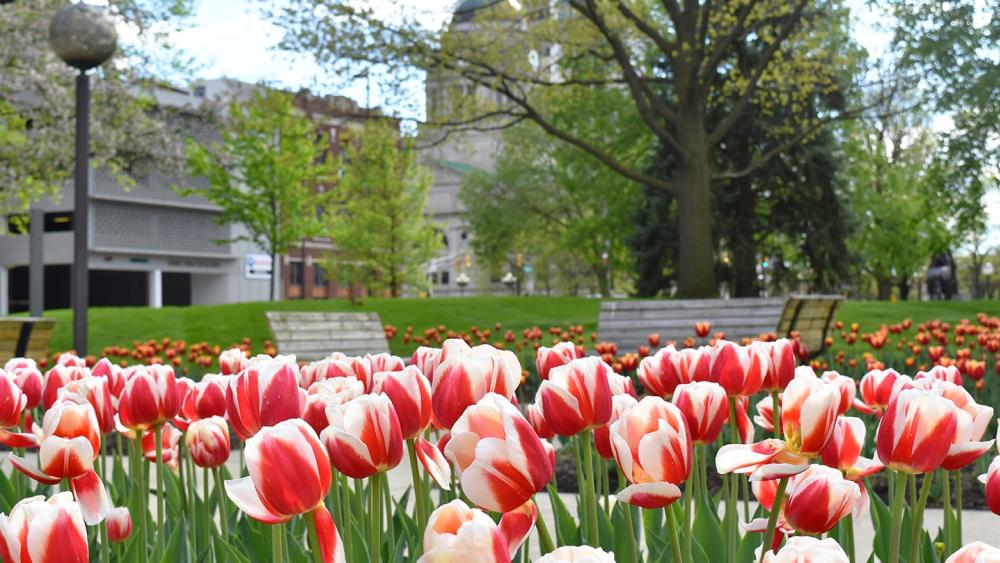 Flowers and Plants
Shower mom with love with a gorgeous bouquet of flowers or a fun potted plant! If you're not sure where to buy, check out a few of these local favorites. 
Located in downtown Fort Wayne, Cottage Flowers has a range of colorful bouquets and beautiful vases to help you create the perfect Mother's Day gift. Shop online here and choose the right gift for mom. Plus, they offer free local delivery!
The Honey Plant is a new brick and mortar plant shop along the Wells Street Corridor. You'll find plenty of succulents, air plants, and many other plants that bring life to any home. You can also browse fun, colorful pots to fit the look you want. Shop online, then swing by the shop for contactless curbside pickup.

Shop Local for Gifts
Looking for jewelry, perfume, coffee mugs, or other accessories? Many boutiques around Fort Wayne have special gifts in stock just for Mother's Day. Check out these mom-themed collections at Fancy & Staple, The Find, or any of these local boutiques.
Order a beautifully curated gift box mailed directly to mom from Sommer Letter Co. The gift sets include a Mother's Day greeting card, hardcover notebook, keychain, candle, mini vase, and salted caramel candy. Browse the Mother's Day Gift Sets that ship to mom for free!
Consider shopping from several local vendors this Saturday at Ft. Wayne's Farmers Indoor Market. Browse a variety of goods available from 9am – 1pm inside the Lincoln Financial Event Center at Parkview Field.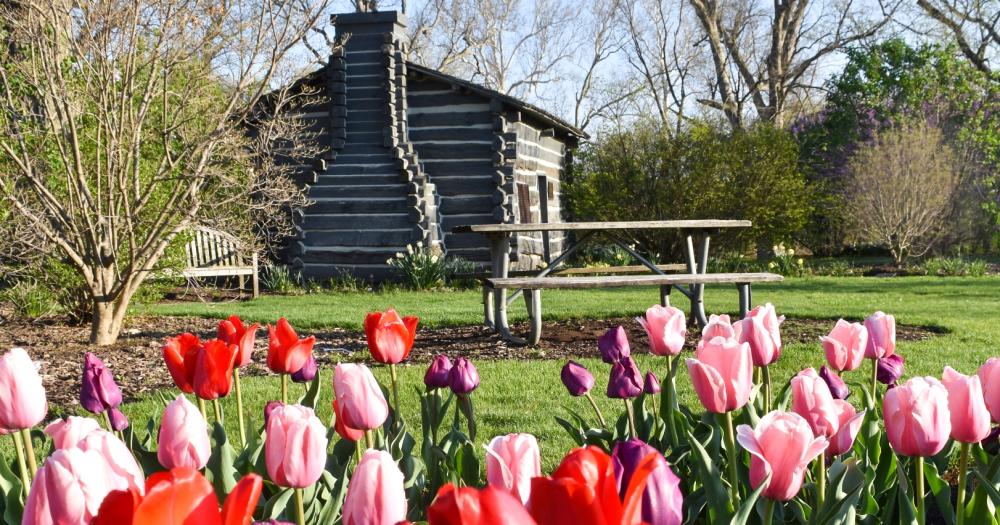 Enjoy an Outdoor Stroll
While you may be gifting mom a bouquet of flowers, she still may enjoy some fresh air and a walk amongst the outdoor flowers. Take a stroll through the spring tulips at Foster Park or the Lakeside Rose Gardens. Find more suggestions for places to view the spring flowers here. Of course, if the weather is nice, exploring Promenade Park in downtown Fort Wayne is a great option. You won't want to miss the views from the Tree Canopy Trail!
If you want to get even more active outdoors, consider a bike ride or a long walk on one of our trails. Fort Wayne is home to more than 120 miles of trails, so the location and scenery are up to you. Check out our bike trail itineraries.
NOTE—While you enjoy Fort Wayne's parks and trails, don't forget to observe social distancing measures by staying 6 feet apart from others. Masks are also strongly recommended.

Public Art Scavenger Hunt
Fort Wayne offers a wide variety of public art for all to see. Many of these murals and sculptures can be found in alleys and on the sides of buildings around downtown Fort Wayne. If your mom likes to enjoy public art, she'll love this Mother's Day Public Art Scavenger Hunt from Art This Way and the Downtown Improvement District! Complete 12 questions or tasks about the downtown public art, submit your answers online by May 11 at 12PM, and you'll be entered to win a prize valued at $100.
Take this Scavenger Hunt sheet with you as you explore, then submit your answers online.

Sweet Treats and Baked Goods
Surprise mom with something truly delicious!
GK Baked Goods is offering carryout bread and pastries your mom will love. Find everything from bagels and cheese danish to rhubarb pies and croissants. And don't forget about their incredible cinnamon rolls! See the menu here. Plus, they've partnered with several local companies to create a Mother's Day gift basket including a 45-minute massage from The Lemony Lotus, a potted house plant from The Honey Plant, and a box of GK Baked Goods chocolate raspberry macarons—all for just $60! Place your order for carryout bread and pastries or the Mother's Day gift basket by Wednesday, May 6 at 6PM. Email your order to gkbakedgoods@gmail.com.
Fort Wayne has a variety of sweet treats that will make a great gift! See what's baking at Sassie Cakes, Hall's Takes the Cake, Cookie Cottage, Nothing Bundt Cakes, or check out one of the stops on this Dessert Trail.
Looking for a gift mom will never forget? Purchase an incredible Mother's Day Tower from DeBrand Fine Chocolates. (See details below.)

Mother's Day Carryout Specials
The Hoppy Gnome
The Hoppy Gnome is offering a fun addition to their Mother's Day carryout promotion with Cottage Flowers! Pre-Order by Thursday at 7PM for a chance to win gift cards from The Hoppy Gnome and Cottage Flowers! This special includes Proximo Carnitas Benedict, Hoppy Hash, Bacon, Fruit, BTL Champagne, BTL OJ, and a small bouquet from Cottage Flowers. This special serves 4 people for $80 or 6 people for $100.
Orders can be picked up Mother's Day, May 10th
203 E Berry St
(260) 422-0070
Pickup Hours: 10 a.m. to 3 p.m. 
See full special details and order here.
Ceruti's Catering
Ceruti's Catering is offering a Mother's Day Brunch special that includes Egg & Cheese Casserole, Honey Baked Ham, Baby Yukon Potatoes, Fresh Fruit Salad, and Assorted Danishes. This special serves 4-6 people for $79. Place your order by noon on Wednesday, May 6th to guarantee your order.
Orders can be picked up Saturday, May 9th
6601 Innovation Blvd
(260) 207-2000
Pickup Hours: 10 a.m. to 1 p.m. 
See their full special details on their Facebook page here.
DeBrand Fine Chocolates
Treat your mom to a Mother's Day Tower from DeBrand Fine Chocolates. The tower includes one 9pc Connoisseur Collection box, one 4pc Truffle Collection box, one 4pc Classic Collection box, and one "Happy Mother's Day" Chocolate Thoughts Bar for $51.50. Orders can be purchased in-store or online for shipping or pick up.
*NOTE: DeBrand's stores are closed on Sundays, so pickup your order by Saturday, May 9th.

10105 Auburn Park Drive or 5808 Coldwater Road
(260) 969-8333
Pickup Hours
Mon – Fri: 7a.m. – 9p.m.
Sat: 10a.m. – 9p.m. 
Order online or see full details here.
Ruth's Chris Steakhouse
Ruth's Chris Steakhouse is offering Mother's Day Dinner for Two including a Shrimp Cocktail Starter, Caesar Salad, two Ruth's Classic Filets, Creamed Spinach and Au Gratin Potatoes accompaniments, and Cheesecake for dessert. Add on wine for $25 as a perfect gift for mom. This special serves 2 people for $125. Pre-order by 8PM on May 7th for pickup on Saturday, May 9th or Pre-Order by 8PM on May 8th for pickup on Sunday, May 10th.
Orders can be picked up Mother's Day, May 10th
224 W Wayne St
(260 444-5898
Pickup Hours: 11 p.m. to 5 p.m. 
See full special details and order here.
Burger Bar
Enjoy a fun lunch or dinner for mom with Burger Bar's Families Love Sundays Special!  The special includes 4 burgers and 4 orders of fries for just $20.
223 W Jefferson Blvd., Fort Wayne
(260) 702-0349
Pickup Hours: 12 p.m. to 9 p.m.
See full details at www.burgerbarfortwayne.com.
Catablu Grille
Catablu is offering family meals for four, featuring your choice of Filet Mignon Steaks or Macadamia Nut Crusted Salmon. Meals come with Field Green Salad, Rosemary & Garlic Roasted Marble Potatoes, Asparagus, Rainbow Carrots & Roasted Cauliflower, Knot Rolls from the Fearless Cook, Chocolate Salted Carmel Brownie, and Blueberry Brown Sugar Crumble Pie Jars. The Filet Mignon special is $175 and the Salmon special is $165 (both meals are also available for two for $85). Pre-order Wednesday May 6th by noon. Ask for pickup details when ordering.
224 W Wayne St
(260) 456-6563
See full carryout special details and order here.
Also take a look at Catablu's Meals for Mom Gift Bag menu with the Fearless Cook featuring fresh salads and appetizers and oven-ready meals! Find full details here.
Trubble Brewing
Trubble Brewing is offering their famous brunch for Mother's Day with options like Loaded Waffles, Homemade Biscuits and Gravy, Banana Streusel French Toast, and more along with their normal menu for carry-out or delivery.
The brunch options range from $25 - $60 and serve 4-12 people depending on selection. Pre-order family meals by 4PM on Thursday May 7th.
Pickup Hours: 10 a.m. - 2 p.m. on Sunday, May 10th
2725 Broadway
(260) 267-6082
See full carryout special details and order here.
Casa Ristoranti Italiano
Casa Ristoranti is offering family carryout pans. See full details here.
Club Soda
Club Soda has select appetizers, salad, and six options of pre-made family dinners to-go! See the options and order here.