Update: Check out our updated directory of splash pads here. 
Summer is in full swing in Fort Wayne, and in just a few weeks the kiddos will be heading back to school.But, that doesn't mean that there aren't thousands of happy, squirming little ones blocking out ideas of textbooks and homework for swimming trunks, water balloons and cannon balls. Here are several great places in Allen County for visitors and residents to splash around (but only thirty minutes after eating, of course).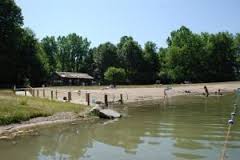 Fox Island County Park - Bowman Lake Swimming Beach 7324 Yohne Rd., Fort Wayne, IN 46809 260-449-3180 Fox Island County Park is located in southwestern Allen County. The 270-acre park has over seven miles of marked walking trails that wind through the park (which is a State Nature Preserve). On your walk you'll enjoy hundreds of species of plant and animal life under a thick canopy of trees. One you've gotten some exercise, head to Bowman Lake Swimming Beach and take a dip! The natural beach is a great fun, but there are no lifeguards on duty, so swim at your own risk. The park also has a Doggie Beach where you and your furry friend can splash around off-leash.
Chain O'Lakes State Park - Sand Lake 2355 E. 75 S. Albion, IN 46701 260-636-2654 Located only a half-hour or so to the northwest of Fort Wayne, the Chain O'Lakes State Park is a wonderful summer playground for families. There's 10 miles of hiking trails, but each trail is less than two miles, so they're appropriate walks for all ages. The Park is probably best known for its trout and crappie fishing (on shore and small engine boats). There's also a nature center, as well as rowboat, paddleboat, kayak and canoe rentals that are perfect for floating around in one of the nine kettle lakes. The best part, of course, is enjoying the swimming beach on Sand Lake. Since the beach is a popular destination (of course it is, it's free!), it can become crowded on weekends and nice days, so get there early, if possible.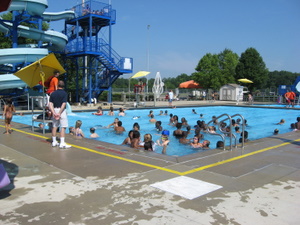 The McMillen Swimming Pool 3900 Hessen Cassel & Oxford Fort Wayne, IN 46809 As you approach McMillen Swimming Pool in the summer, don't be alarmed when you hear ear-piercing shrieks. There's no emergency - that's the sound of pure, unadulterated bliss as kids zip down one of McMillen's two water slides. The slide at the northern end of the pool is pretty much a straight shot into the cool water below, but the slide on the western side of the pool is a real doozy. As you barrel down the slide, we counted four twists and turns before you enter a kind of cork screw that finally shoots you out. It's a lot of fun whether you're age 7 or 47. McMillen Swimming Pool also features sunning decks, shade umbrellas, heated water and a water playground for younger children.
Park Forest Swim Club - Pool 5433 Hewitt Ln Fort Wayne, IN 46815 260-485-4513 They take fun and refreshment pretty seriously at the Park Forest Swim Club. The 25-meter pool has 6 lanes, with 1m/3m diving and shallow-water wading area. The Park Forest folks offer Red Cross certified swim lessons, aquatic exercise classes, swim and dive teams, baby pool and picnic facilities. When all the fun works up an appetite, there's a snack bar with the standard selection of candy and soda, but with hot food as well. Free parking is plentiful and guest passes are available. Park Forest Pool opens on May 27 and is open from noon to 9pm daily.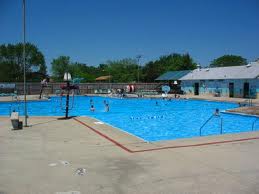 Blackhawk Swim and Tennis Club 3020 Simcoe Dr., Fort Wayne 46815, 260-485-7113 The Blackhawk Swim and Tennis Club in Fort Wayne has been an Allen County staple for over 40 years and shows no signs of slowing down. It has nearly everything you could want for a day of fun in the sun, a large swimming pool complete with a diving well, a shallow-depth kids pool, changing rooms, and even tennis courts. While Blackhawk Swim and Tennis Club has many members, they also sell reasonably-priced guest passes for both families ($30) and single guests ($15) that are good for any five consecutive days of the swim season. This is great for visitors to Allen County looking to escape the summer heat. As the name implies, the complex also has tennis courts and well-kept mens' and women's locker rooms for changing.
Fish Out of Water! If your family will be in Allen County, Indiana this summer, make sure to bring your sunscreen. The area has several great swimming opportunities that are each unique in their own way. So slather up, find your goggles, and be prepared to show off your best cannonball.
Etc... For more natural swimming places nearby Allen County, there are swimming beaches at Dallas Lake State Park, Edward Roush Lake (Huntington Lake), and the Little Turtle Recreation Area.
*Jeffrey Ferraro is a travel enthusiast and expert. He is the Director of Marketing of Diamond Tours, the leading provider of charter group bus tours in the US and Canada, which include tours of major cities, bus trips to shows and casinos. Jeffrey loves uncovering lesser known travel destinations and sharing them with his customers.