Fort Wayne fishing advice on the best spots, what you can catch, and regulations you need to know
It may surprise visiting anglers that Fort Wayne, Indiana, is a town with plenty of good fishing. On a map, the locations of fishing spots in Allen County form an "S" shape in the Fort Wayne and the Chain O'Lakes State Park areas. The county is home to ample lakes, dams, rivers and streams, and therefore there are many locations perfect for dropping in a line. With a little advice and some luck, it'll be no time before they're biting.
Here are a few solid places you should try in your quest to snag the big one.
Hurshtown Reservoir
The Hurshtown Reservoir opens for fishing in May, just in time for warm weather. Located off of Highway 1 to the northeast of Fort Wayne, the Reservoir has a reputation for quick hitting crappie and walleyes, especially near the dam by Johnny Appleseed Park. The nearby Cedarville Reservoir is home to channel catfish in the spring.
Aside from the usual Indiana Fishing Guide and Regulations, only boats with trolling motors are allowed in the Reservoir. This can cramp some people's style, but it keeps the water pristine and the lake quiet, which is the point, right?
The reservoir is public access but a fishing license is required.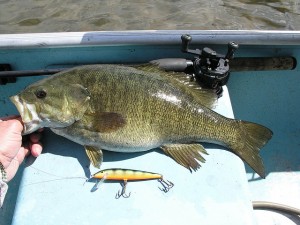 Salamonie Lake
9214 Lost Bridge Road W., Andrews, IN 46702
Water temperatures in Indiana are still pretty low in the early spring, which makes crappie fishing ideal. Salamonie Lake is a great spot for it. This beautiful lake is located about 45 miles southwest of Fort Wayne in the Lost Bridge State Recreational Area. It's clean, crisp, and altogether beautiful.
Salamonie is also home to white bass, walleye, blue gill and many types of panfish. There's shore fishing, of course, but the most action is to be had on a boat for reaching the channels. If you fish in the winter, be careful of driftwood and fallen trees, as lake levels drop significantly.
If you find yourself having so much fun at Salamonie Lake that you don't want to leave, you're in luck, as the area has several campgrounds friendly for tent campers and RVs alike. Salamonie Lake is public access and a fishing license is required. Visit Indiana Fishing Guide and Regulations for further questions.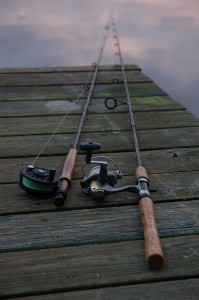 You'll find Blue Lake in the middle of a few hundred farms about 30 minutes northeast of Fort Wayne, closest to a small town called Churubusco. There's a wide variety of fish to be found here, including bluegill, redear, crappie, bullhead, pumpkinseed sunfish, perch, and largemouth and smallmouth bass.
Sometimes Blue Lake's water can be a little foggy, which can hamper results, but when things are good at Blue Lake, they're really good. Noon is the best time to fish Blue Lake, although great results have been experienced there at midnight, for those adventurous enough to stay out that late.
Hotspots at the lake are in channels in eastern and western parts of the lake, the north shore shorelines, and the bay in the southwestern corner of the lake. Use the regular variety of lake and river fishing lures: spinners, night crawlers, etc. There's also nearby accommodations for campers at the Blue Lake Campground in nearby Churubusco.
Things Indiana Visitors Should Know
Indiana Fishing Guide and Regulations ensure that Indiana's lakes and streams can be enjoyed safely by everyone, both now and for generations to come. Here are some things to keep in mind:
To fish in public lakes, streams, rivers or tributaries in Indiana and its boundary waters, you must have a valid fishing license and it must be carried while fishing. There are also specific license requirements for removing trout and salmon.
Exemptions:
th

ose under age 18

those born before April 1, 1943

the legally blind

those fishing in

private ponds
Consult the Indiana Fishing Guide and Regulations for more information.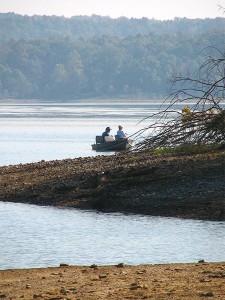 General Regulations According to Indiana Department of Natural Resources You may not fish with more than three poles or hand lines at any one time. Each line may have no more than two single or multi-barbed hooks, two artificial baits or two harnesses for live bait.
Single or multi-barbed hooks may be used for hand or pole lines, float or jug fishing, limb, drop or trot lines.
There are minimum size/bag limits for bass (14'), walleye (14'), muskellunge (36'), pike (20') and channel catfish (10') caught in Indiana.
For more size/bag limits, refer to the Indiana DNR fishing regulation guide.
Set Some Time Aside
If you're visiting the Fort Wayne, Indiana area, bring your pole along. It will be worth your while.
Watching a line with your feet propped up on a pier is a proven remedy for stress, but moreover, fishing refreshes the soul. It's an experience we've shared with our ancestors for thousands of years, and a tradition we happily pass down to our children. Now cast out and enjoy yourself. Good luck, and catch a big one.
About the Author Joe Laing is the Marketing Director for El Monte RV, selling used motorhomes through eight different locations across the United States.