Update: For information on this year's event, visit our Festivals page.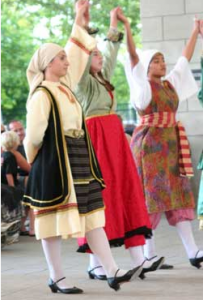 No matter your true ethnic heritage, don't miss your chance to be a little Greek at the 31st Annual Greek Fest, June 23-26 at Headwaters Park in downtown Fort Wayne. This local summer event, sponsored by Holy Trinity Greek Orthodox Church, brings Greek culture front and center through food, music, dancing and an overwhelming enjoyable spirit. Experience the rich, savory flavors of traditional Greek cuisine including gyros, loukaniko (Greek sausage), Pastichio (Greek lasagna) and Spanakopita (spinach & feta cheese baked in flaky filo dough). Children accompanied through the food line by an adult may receive a free hot dog. All entrees and sides are a la carte, with prices ranging from $2 to $8. Soft drinks, iced tea, Greek coffee, beer and wine will also be available. Save room for dessert, because you won't want to miss authentic Greek pastries including Paximadia (Greek biscotti), Loukoumades (warm dumplings drizzled with warm honey and rolled in cinnamon and brown sugar), and especially Baklava!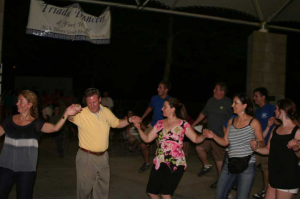 Music – provided by Lazaros – will be plentiful, as will be dancing. Greek gift items will be available in the gift shop area, and the kids' area will maintain the festive atmosphere with rides and games. The public is also invited to Holy Trinity's weekly Liturgy service, 9am at Headwaters Park. Immediately following the service, the 2nd Annual Greek Fest Olympic 5K Run/Walk will be held. Hours: Thu., Fri., Sat.: 11 am-11pm; Sun.: 11am-6pm Admission: Thu., Fri., Sat., 11am-4pm: FREE; 4pm-10pm, $3. All day Sunday: FREE Accepts: Cash, Visa, and Master Card. ATM on site. For more information, visit us on the web.