Young Greek dancers swayed and shouted encouragement to each other as they stepped through intricate Greek line dances in unison. Holding hands, sometimes up, sometimes down, they tapped their toes which of course, made mine tap too!
Fort Wayne is blessed with an abundance of cultures and people who love to celebrate their diversity. This is always evident at the annual Greek Fest. This will be the 36th Greek Festival, held on June 23-26, 2016.
Greek Fest is held in Headwaters Park Pavilion in downtown Fort Wayne. Parking is available in nearby lots and meters. After 5 pm, parking is free throughout the city.
The music gets me excited even as we're walking in. The shouting of the dancers – mostly young – is loud, but it is all family-friendly.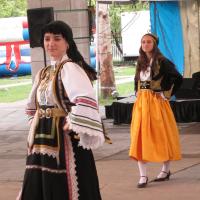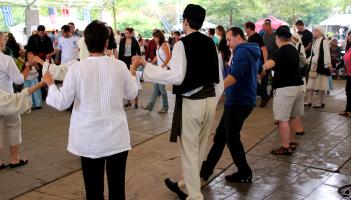 Some of the female dancers were adorned in traditional head coverings, gold necklaces and short vests with long, full skirts. Others wore more formal-looking white costumes. The dancers are scheduled to perform their dances daily at 12:30 pm, 6pm, 8pm.
In the evenings, live music by the band Lazaros is scheduled.
Kids can enjoy small amusement rides and a bounce house. For me, I was more into the authentic Greek Souvenirs. I wonder if I could create famous Greek desserts if I purchased a Greek cookbook?
Probably not.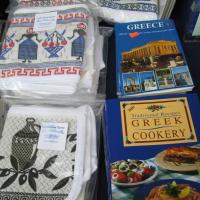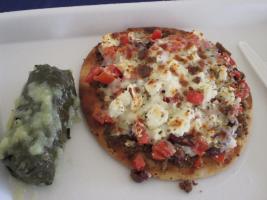 That's enough reason for me to buy some already made at the festival. Members of the Holy Trinity Greek Orthodox Church in Fort Wayne organize the Greek Festival and bake heavenly sweet pastries made with delicate layers of filo crust, chopped walnuts, and honey, powdered sugar and other goodies.
Main entrees are also available and filling. If your little one is a picky eater, he or she may eat a free hot dog, complimentary of the festival organizers.
The Greek Fest Olympic 5k run/walk on Saturday, June 25, offers the chance to run off those calories. The race will begin at 10 a.m. at Headwaters Park.
I'm thankful we have the convenience of living in Fort Wayne while learning fun things about a culture on the other side of the world. Opa!
Festival hours:
Thursday-- Saturday 11 am - 11 pm
Sunday 11 am - 5 pm
Admission prices:
Thursday, Friday, and Saturday
11:00 am to 4:00 pm – FREE
Thursday, Friday, and Saturday
4:00 pm to 10:00 pm - $4
All Day Sunday – FREE
Over 65 years old - $3
Under 16 years old FREE