This is the third in a series of posts about eating gluten-free in Fort Wayne!
Pasta
When I still ate wheat, boy, I loved me some pasta. The best I ever had was at a now-closed restaurant in Muncie, IN that offered penne pasta in a tangy vokda cream sauce. Spaghetti in olive oil was my go-to light meal at home. I was left optionless when I went gluten free. Or so I thought. Fort Wayne has some different options when it comes to gluten-free. I'll be concentrating on Italian pastas, since Thai pasta, for example, is usually made from rice, a naturally gluten-free grain.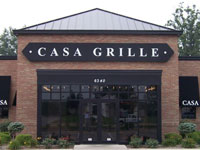 One of the treasures Fort Wayne has is its local chain of Casa Italian restaurants. With four locations spread across the city (though my favorite, the original, in central Fort Wayne closed last year), their signature house salad is known nationwide and has oft been
copied
emulated. They offer, however, an entire gluten-free menu, with dishes containing pasta that, while kind of an off-white greyish color, taste delicious. If you're feeling decadent, try it with the butter sauce, which is amazing.
I've tried to stay away from chains, because I'm focusing on unique-to-Fort Wayne treasurers you can try while here.  While it is a chain, Biaggi's is a small chain, and utterly delicious.  I've literally never had a meal I didn't like while eating there. They offer a good gluten free pasta that has maybe a tiny bit difference in texture from beglutened pasta, but it tastes great and is hardly noticeable. And you can laden your dish with all sorts of great stuff: wild mushrooms, caramelized onions, sun dried tomatoes, lobster -- the list goes on. And if you request it, they have a great gluten-free flatbread that they can serve with their pre-dinner bread and "Biaggi butter" (olive oil + grated Parmesan + fresh cracked pepper = heaven in your mouth)
Side note: Biaggi's also has a gluten free artisan pizza, but I didn't include it here because a) I've never tried it, and b) you'll definitely want to get pasta when you go. 
Gluten-free Fort Wayner's and Out-of-towners: Where do you get your pasta fix? What is it like? Let me know in the comments!