If you have a special diet and are traveling outside of your community, it can be stressful finding restaurants that can accommodate your restriction. More and more people are becoming gluten intolerant, or worse — being diagnosed with Celiac disease. In fact, the
New York Times reported
that Celiac disease is more than four times more prevalent now than it was just 50 years ago. I developed a gluten intolerance two years ago, and as someone who consumed a lot of bread and wheat products, it put a major dent into my life. Suddenly, I couldn't eat sandwiches. Doughnuts. Bagels. PIZZA!
As the gluten-free lifestyle booms, and eating wheat-free diets becomes trendy, restaurants in Fort Wayne are taking notice. For a while I thought I was doomed to eat salads for the rest of my life, hold the croutons please. But I've explored, asked questions, and discovered some real gems that let me diversify my diet and get my carb fix back.
This, the first in a series of posts, will focus on the sandwich shops. Stay tuned for tips on finding good pizza and pasta in town as well!
Sandwiches
Before my gluten intolerance, I think it's safe to say my staple food was the sandwich. I loved all kinds; hamburgers, turkey, subs, even those little cucumber mini-sandwiches on rye. For a year or so, I ate none, save for moments of weakness that ended badly. I'm pleased that now I have a few options with various gluten-free breads.
"The Dash," as the regulars call it, is a popular lunch option for downtown residents, artists, and businesspeople alike. It's situated on Calhoun Street in the middle of the urban center, in a trendy restored building with walls adorned with art. They serve the best (gluten-free!) tomato bisque soup you'll ever eat, and if you're craving a sandwich, you're in luck: they serve any of their sandwiches with French Meadow gluten-free bread. It's a hearty bread, but tastes like sourdough or whole wheat. Be sure to ask for the kitchen to toast it first, as that helps the structural integrity of the bread. Try it with the gourmet grilled cheese selection or the Mediterranean veggie variety.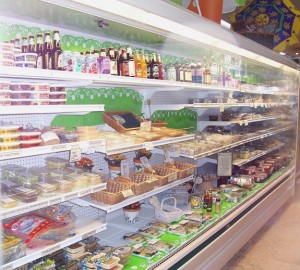 Head north of downtown for about a mile and you'll find this gem tucked into an up-and-coming neighborhood. With a natural grocery store attached, the Co-op boasts a huge selection of organic and vegan foods, as well as many gluten-free options. Get gluten free sandwiches at the Deli made with Sammi's gluten free bread, made with millet and flax-seed flour. And, their hot-line next to the phenomenal salad bar also boasts two or more gluten free dishes each day.