Nothing says fall like a warm apple pie … and when you've picked the apples yourself, well, that's even better! Take the family to one of Allen County's bountiful apple orchards, and you're sure to enjoy plenty of cool-weather fun. Plus, you'll leave with apples galore!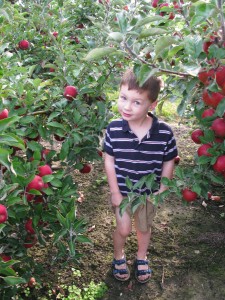 Advanced Tree Technology
, located at 12818 Edgerton Road in New Haven, offers a variety of dwarf trees, so even the littlest apple-pickers will have no trouble filling their baskets. U-pick hours are Monday through Friday from 9:30 a.m. until 7 p.m. and Saturday and Sunday from 9:30 a.m. until 5 p.m. Pre-picked apples are available for purchase, as well. You'll also find plenty of other fresh produce, including home-grown tomatoes and onions, acorn squash, spaghetti squash, butternut squash and home-grown peaches. If you're looking for something sweet, don't forget to treat yourself to some apple butter and honey, too! Visit
the orchard's website
for a list of apple varieties ready for picking or call 260-749-0891 for more information.
Cook's Orchard
, located at 8724 Huguenard Road in Fort Wayne, offers 39 delicious varieties of apples. U-pick hours are daily from 10 a.m. until about 4:30 p.m. (closing is at 5, so it's best to allow yourself at least 30 minutes for picking). When you arrive, you'll receive bags for collecting your apples and a map or the orchard. Cook's also has a store, where you'll find plenty of pre-picked apples, apple cider, jams and jellies, Indian corn and candles. Visit
Cook's website
for a list of apple varieties that are currently available, or call 260-489-3940 for more info. Have any other apple picking spots that you recommend?