There's just something nostalgic and extremely enjoyable walking up and down the aisles in an antique store, browsing each aisle in snail-like fashion – just in case you miss a hidden treasure. Yes, I love going with my mom and sister to all the local antique shops. On these cooler days, this is just the perfect time to spend an afternoon, a whole day, or a complete weekend browsing some wonderful antique shops in Fort Wayne.  From downtown to the outskirts of town, there is a wide array of antique shops to keep the collector and the novice both intrigued. You could spend an entire afternoon just browsing the antique shops gracing Broadway Street in Fort Wayne. This street is home to several antique shops including
Candle Light Antiques
at 3205 Broadway and
Antiques on Broadway
at 1115 Broadway.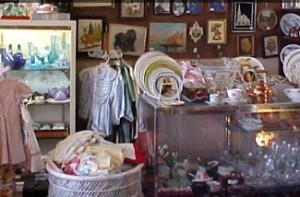 Nature's Corner Antique Mall
is on the fringe of downtown at 2307 Spy Run Avenue and offers over 40 vendors selling their wares. You'll find furniture, glassware, collectibles, toys, china, primitives, pottery, jewelry, home décor, tools, and other unique items.
Stoller's Antique Mall
at 909 North Coliseum Blvd, is one of the area's favorite antique malls. Antique lovers and collectors beware – this is loaded with a great selection of finds including games, miniature cars, glassware, porcelain, jewelry, and more. Fort Wayne is a great place for antiquing! Grab your mom, your sister, or your significant other and head to Fort Wayne to spend a day stepping back in time at our local antique shops.