It's OK to give into your sweet tooth every now and then. Fort Wayne has several locally owned bakeries that are well worth the caloric indulgence:
Yum-Mee's Bakery
Located in the quaint East State Village neighborhood, Yum-Mee's Bakery offers a full line of gourmet cupcakes, cinnamon rolls, scones, danish, croissant, cookies, artisan breads and custom cakes. Check out their
Facebook page
for a schedule of their freshly baked bread.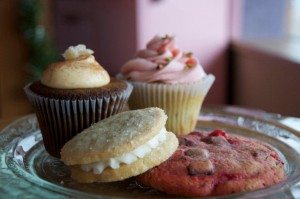 Vanilla Bean
A Vanilla Bean biscotti is the perfect complement to a gourmet coffee. In addition to these pastries, the shoppe lures customers with a variety of decadent cookies and cupcakes. They even cater to the canine crowd with boscos: doggie biscotti bites. Stop by their store on North Anthony Boulevard, or order
online
.
Waynedale Bakery
The
Waynedale Bakery
has been a neighborhood staple since 1955. This place is a popular stop for local bakers and it's easy to see why. In November 2006, the food critic from Fort Wayne's
Journal Gazette
awarded them five stars.
Christine Miller is known for her creative and delicious cakes. Waynedale Bakery is also wholesale as well as a retail establishment, offering a wide variety of fresh baked products; including holiday and ethnic offerings.
George's La Baguette
George's La Baguette,
on the corner of Broadway and Taylor in downtown Fort Wayne, claims the distinction of Fort Wayne's only "Chicago style" bakery. Here you will find a selection of fruit cakes, wedding cakes, event pastries and freshly baked cakes and breads. While you're there, make sure to check out the market next door. George's International Market offers a diverse and eclectic selection of International foods, fresh produce, meats and cheeses. Try them all and let us know your thoughts! Do you have any other favorites that you would recommend?