The days are shorter, the nights longer and the air chillier. As we move deeper into fall, our thoughts turn to warm apple cider, a nice crackling fire and most importantly, gathering our families and other loved ones around us. For a lot of people in and around our area, however, these thoughts don't ever materialize. Not because the desire isn't there, but because the resources are not. For those of you who visited Fort Wayne last winter, I don't have to remind you how frigid the temperatures were. For days and nights on end, we battled subzero temps and windchills, feet of snow and who knows how much ice. Most of us went to bed and woke each morning in nice, heated homes, with hot showers and warm clothes, coats, hats and gloves. But what about those among us who don't have the things that we sometimes take for granted? Wouldn't it be wonderful if you could do something to help? Even while on vacation, there are plenty of opportunities to give while you receive! There are many outstanding organizations in Fort Wayne that share the same mission: helping the less fortunate among us. Fort Wayne is blessed to have a wide range of services for families, men, women and children. I'm going to talk to you about two of these non-profits and how you can give back.
"Our mission is to provide, through the power of Jesus Christ, a home for the homeless, food for the hungry, and hope for their future." The Rescue Mission has been serving Fort Wayne and its surrounding communities for more than one hundred years! Located downtown on Superior St., the Mission is a faith-based non-profit that serves the homeless through its four ministries:
Life House
  is where transient men can go to find a hot meal and warm place to stay. The facility has more than 44 beds available, and visitors can stay for one or several nights. All who are needy in the community can stop in for three meals a day, fellowship, clothing and hygiene products. Referrals to health and other social service agencies are also available. Life House serves more than 216,000 meals a year and is open for breakfast, lunch and dinner to Mission residents and the public 365 days a year. Special meals are served on Thanksgiving, Christmas and Easter. All for no cost to visitors.
Restoration House
  offers short- and long-term residential programs for homeless men. "For many men, the Restoration House is their last hope. They're unemployed. Addicted. Wrestling with problems. We help men understand their past, receive God's healing and take steps to move forward." Restoration House has 40 beds and services are offered for free.
Charis House
  is a special place that serves homeless women and children. As a mother, I cannot fathom the grief that must come from not being able to provide for your children. Charis House is a place to go to get help and to heal. Short- and long-term residential programs are available. "At Charis House, these women not only find relief from homelessness, but they're also able to heal and move forward. Our restorative programs equip them to find jobs and housing, navigate life's challenges, experience emotional stability and grow in their relationship with Christ." Charis House has 78 beds, no age limit for children and services are free.
Treasure House
is a thrift store that helps support the Rescue Mission. Located at 2203 Lafayette St., Treasure House sells furniture, appliances, clothing and other items.
Click here
to find out how YOU can help!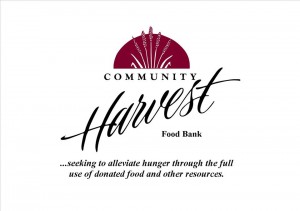 It's so easy. Each week you're at the grocery store, pick up 3-4 extra items. Things you yourself would like to have. Get the kids involved. At the end of the month,
deliver your donation
and help someone in need. It's that simple! The Community Harvest Food Bank was first incorporated as a charitable organization back in 1983, when staggering numbers of people were out of  work and in need of immediate assistance due to multiple factory closures in the area. Today, "Community Harvest's mission is to alleviate hunger through the full use of donated food and other resources, and to increase public awareness of and involvement in solutions to hunger. In pursuit of this mission, Community Harvest solicits surplus food and grocery donations from the food industry, and through community food drives, and transports the product to our warehouse at 999 East Tillman Road. The food is sorted, inspected for quality, and readied for distribution to the hungry via a member agency network of over 430 churches and social service agencies. These agencies include such vital services as emergency food pantries, soup kitchens, shelters, rehabilitation centers, youth and older adult programs. This network serves 21,100 unduplicated people each week in Adams, Allen, DeKalb, Huntington, LaGrange, Noble, Steuben, Wells and Whitley counties." The Food Bank has many different programs.
Click here
to find out more!
Click here
to find out how YOU can help! Of course, while The Rescue Mission and Community Harvest Food Bank are two absolutely wonderful organizations in our community, there are many more around the area.  My challenge to you is to pick at least one and do your part to give back to Fort Wayne this holiday season. You'll never feel so thankful as you do when you're helping someone else!