For me, the holiday season would not be complete without taking part in the seasonal road races offered in Fort Wayne this year -- including the Gingerbread Pursuit, a brand new event on the racing circuit. Along with the annual Galloping Gobbler race, these events provide entertainment and exercise for locals and visitors alike.

The Galloping Gobbler 4-Miler takes place on Thanksgiving Day: Thursday, November 24. Starting and finishing on the campus of the University of St. Francis, this event has become a family tradition, bringing thousands of runners together. Runners can burn off Thanksgiving Day meal before it's eaten by taking part in this scenic run that goes through historic Lindenwood Cemetery, just west of downtown.
These winding and wooded hills will bring a challenge for both experienced and beginning runners alike. Race participants can expect to be home by mid-morning to enjoy the day with their loved ones.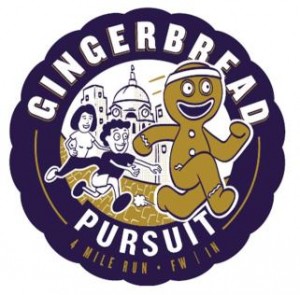 Brand new to the Fort Wayne racing scene, the Gingerbread Pursuit 4-Miler is another must attend event on the holiday road race calendar. This course will take participants through historic downtown Fort Wayne on Saturday, December 10. Along with the race entry fee, runners receive free admission to the Gingerbread Festival at The History Center, which features a display of handmade gingerbread homes.
Course maps for both races are available online. Both online and mail-in registration is accepted for the Galloping Gobbler, now through  November 23. Registration for the Gingerbread Pursuit is available now through December 8. Walkers are welcome at both races. Register early for the best deal!