Writing takes me places, so many places that I naively thought I knew everything about Fort Wayne. However, our beautiful city features a somewhat-new establishment that I overlooked during its first year in business.
Gigi's Playhouse opened in January of 2016. It's a privately-funded franchise, one of 30 of its kind in the United States (with 7-8 more franchises currently in the works). It's a unique facility featuring educational and therapeutic programming with an adjacent one-of-a-kind gift shop that's open to the public.
What is Gigi's Playhouse?

According to their website, "GiGi's Playhouse is a one-of-a-kind achievement center for individuals with Down syndrome, their families, and the community." The facility is located inside a renovated space and is privately funded and staffed by volunteers. They also take donations and host a yearly gala fundraiser.
Gigi's features scheduled programming throughout the week but families are welcome to drop-in as well. Gigi's serves all ages from infants to adults. Executive Director Holly Tonak treated me to a tour of the facility, and here's a brief overview of what I observed:
A cozy foyer where families can relax while children are at play or engaged in programming
Tons of toys with a purpose (everything at Gigi's has either an educational or therapeutic purpose)
A dance floor complete with party lights. During dance parties, a karaoke machine has been known to make its way onto the floor!
Kid-friendly indoor gym equipment
A full kitchen where cooking classes are offered
Two tutoring rooms
The Gigi U Classroom, a university-style space where life and career classes are offered to adults over the age of 18
A separate retail facility and gift shop
Visitors Love to Shop Here
The retail and gift shop located within the Gigi's Playhouse complex is one-of-a-kind. It's filled with candles, sweet treats, and all sorts of unique gifts to commemorate your trip to Fort Wayne. The gift shop is staffed with graduates of Gigi U, who are trained in customer service as well as graphic design.
The store's friendly staff can personalize many items with your name, message, photos, or logo. Gigi's store features an impressive lineup of items for family reunions, baby showers, weddings, and corporate giveaways. Turnaround on your personalization is fast. The staff at Gigi's can usually have your order ready the next day or sooner.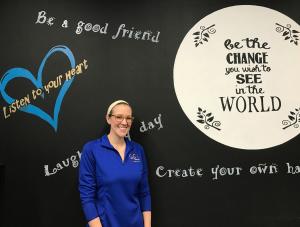 Tonak is delighted with the work being done at the gift shop and expressed joy in describing the staff's approach to their work, "The pride on their faces when they're serving a customer is the best thing in the world. They have purpose, and they know it."
The store is located at 6081 N. Clinton Street, 46825 and is open anytime Gigi's Playhouse is open.
Gigi's Playhouse is open from 10 AM – 6 PM Tuesday through Friday and most Saturdays. View the complete programming schedule online. Gigi's Playhouse provides all of its programming to families for free.