Koto Japanese Steakhouse, located off of Washington Center Road, is not your average, run-of-the-mill sushi joint. With fresh, high-quality selections, in a unique atmosphere, Koto is worth checking out for a fix of Japanese cuisine. The entrance sets the tone for the restaurant immediately. A Buddhist shrine greets patrons, channeling Eastern culture. Once seated, Japanese-American (or Japanese-born) wait staff attend to hungry patrons, adding to the authenticity of the place. The quality of the sushi can make or break the dining experience. Rest assured, Koto orders seafood shipments from Chicago and Boston. This means the sushi and sashimi are of high quality. The menu has a pretty wide selection of rolls you won't find at other local establishments. You can't go wrong with the Black Diamond roll, the perfect blend of texture and flavor. Inside you will find crab, avocado and tempura shrimp wrapped in seaweed and then deep fried. It is topped with green onion, caviar, eel sauce and spicy ponzu sauce.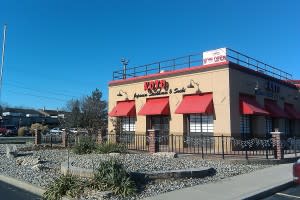 Be sure to use chopsticks for the full sushi eating experience. Oh, and don't forget to order the green (ginger) salad and green tea. They both complement any sushi meal. I recommend the green tea ice cream as the icing on the cake. You won't find this flavor easily in local supermarkets. The hibachi menu is another draw. Insider's Note: You do not have to sit at the grill to order from it, but if you do sit at it, you must order something from it and will not be given a full menu.  All hibachi dishes are served with clear or miso soup, green salad & steamed rice. Koto accepts reservations and carry-out orders. Visit their
website
, or call (260) 482-4288 for more information. Hours are
: 
Monday through Saturday 11:00 a.m. -2:30 p.m; 5:00 p.m. – 10:00 p.m. Saturday 3:00pm – 10:30 p.m. and Sunday 12:00 p.m. - 9:30 p.m.