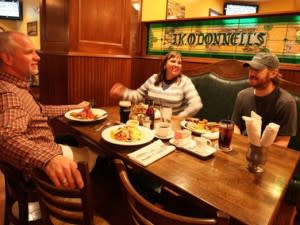 Formal meeting facilities can be stuffy at times. Why not have a meeting in a more relaxed setting? Fort Wayne restaurants offer dedicated meeting spaces. Here are a few of my favorites: Mad Anthony: Their back room allows for groups and parties to have privacy. Why not order one of their famous seasonal brews to add some fun to the meeting?

Old Crown: This cafe/coffeehouse boasts a generous sized meeting room. The bright colors provide a pick-me-up, too. Don't forget about their WiFi!

Hall's Gas House: This historic space adds to the environment. Ask about their private meeting room for business or leisure purposes. The Friendly Fox: As the name implies, the folks at the Fox will treat you right. Their back room provides a quiet space, with tables to accommodate a lunch/ dinner meeting. Be sure to try one of their freshly baked quiches! JK O'Donnell's: Take in the atmosphere of an Old World pub while getting down to business. Their family room provides a quiet respite from the bustling bat atmosphere. Business doesn't have to be all work and no play. Call these local establishments for rental details. You might discover a new favorite!