It's time to think green. No, not the color: veggies of course! It's easy to get some greens in your diet at Fort Wayne restaurants. Here is an overview of some of my favorite locally owned places with great salad bars, in no particular order:
The Lucky Moose: In addition to a fun atmosphere, this place boasts a great salad bar. They are located on the north west side of town, near Krogers.
Trolley Steaks and Seafood: The Trolley Bar boasts the best salad bar, hands down. They have fresh, green lettuce and as many toppings as you can imagine. They even have gummy bears! Ask about their soup and salad special.
Deli 620: Located in the heart of downtown, Deli 620 is a favorite of business people. Here you will find a couple selections of lettuce, ample toppings, and fun salad dressings.  Insider's Note: They are only open for lunch, so plan accordingly. Owner Lindi Miller will make you feel right at home!
Cork n' Cleaver: Their award-winning salad bar looks like something out of a magazine. They have toppings of all colors and varieties. The best part: they make the salad dressings themselves!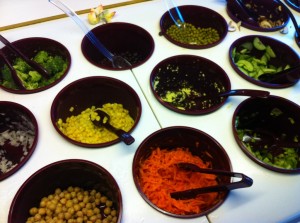 So, there you have it. You can't go wrong with some extra greens in your diet. Try one (or all) and report back to us!<