With the weather turning colder, it might not seem like gardening season, but before you put away those garden tools, there are several things you can do prepare your garden for winter.  Using the Fort Wayne Parks Department as our guide, you can have your beds prepped and ready when spring returns and it's time to get out the garden shovel again.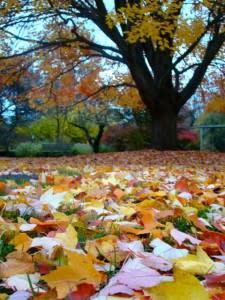 The Fort Wayne Parks Department oversees many parks throughout Fort Wayne, including Foster, Lakeside, Swinney, McMillen, and Memorial Park. Foster Park, located on the south side of Fort Wayne, contains beautifully designed gardens that feature spectacular spring blooms, colorful summer annuals, and a unique perennial garden and fountain.  The gardens are tended by the Fort Wayne Parks Department, who are masters at producing beautiful plants, abundant blooms, and a grand visual display in the garden. There are a number of tips we can learn from the Fort Wayne Parks and apply to our own gardening practices that will help our garden beds to look spectacular.

Fall/Winter Garden Cleanup Guide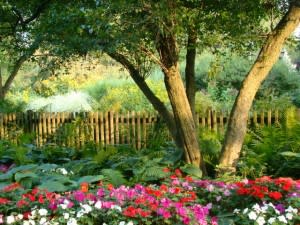 1. Remove dead foliage and plants Every fall, the Fort Wayne Parks Department removes the annual flowers that have died.  This improves a bed's appearance and gives the gardener a chance to prep the soil for next spring, by smoothing the dirt so it is even, free of rocks, and lightly tilled.  Soil can also be amended by the addition of compost. Other plants that should be removed before the ground freezes include any vegetable or garden plants, as well as weeds. Vegetable plants and annual flowers can be composted, but weeds should be thrown into the garbage so that the seeds do not spread into the compost. You can also add leaves to your garden beds or your compost by mulching and adding them to your soil. This will add extra nutrients to your garden beds for next year.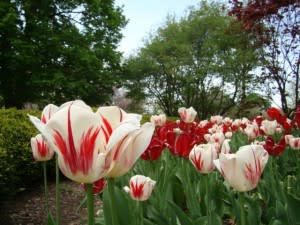 2. Plant spring bulbs. In the fall, the Fort Wayne Parks Department plants their spring bulbs. Each bed has a color scheme that is planned ahead, so that the garden's colors complement each other.  They also plant bulbs that bloom at various times throughout the spring, so the garden always has something flowering.  If you want spring blooms in your garden, the ideal time to plant them is six weeks before the ground freezes hard. However, you can plant bulbs at any time in the fall or early winter and the bulbs will begin their root growth.  Bulbs are designed to be planted in the colder months so that they can produce flowers in the spring.  If you are wondering whether or not to plant those bulbs sitting in your garden shed, now is the time.  Chances are, they will grow better in the ground than storing them indefinitely, which will cause the bulb to dry out.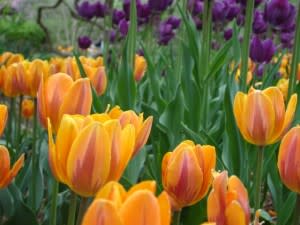 3. Perennial beds can be left alone or cleared. Perennial garden beds can be treated a little differently than annual beds.  At Foster Park, the perennial bed is left intact, providing winter interest, as well as refuge and food for birds and other wild animals. The dying foliage also can act as insulation as it collects snow.  The choice of whether to cut perennials back or not is up to you.  The look of the perennial bed at Foster Park, filled with dying foliage, has a decidedly different look from the cleared annual beds. Some people prefer the look of a cleared garden bed and will cut back the plants, leaving only the base of the plant.  If you do leave your perennials untouched for the winter, be sure to set aside additional time in the spring to cut them back. Either way, preparing your landscaping bed now will produce better soil, less disease, and stronger plants with more blooms during the spring and summer months.  When you prepare your garden bed for winter like the Fort Wayne Parks Department, you can rest easy while the snow falls, assured that your garden beds will be ready for planting when spring returns.