Beer lovers unite! You won't want to miss The Trion's annual festival celebrating all things brewed - Brew Haven '13. The Brew Haven Craft Beer Festival  began in 2011, and is expected to attract hundreds of  beer lovers  from the region when it resumes for the third consecutive year from 2-6 p.m. Aug. 3 at the
Trion Tavern
, 503 Broadway in New Haven.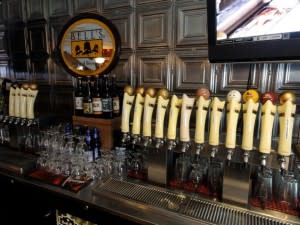 The Trion has come a long way from its humble beginning of 10 microbrews. Today, the restaurant/bar offers 58 different beers of all hues and flavors! Now, for the best part:  festival goers will be able to sample the best of Indiana's 56 microbreweries with names like Sun King, Upland, Wise Men, Flat 12, Fountain Square, Bloomington and Tin Man. Regional beers such as Bell's, Founders and New Holland will also be available, along with quality beers made by breweries with more-familiar names such as Sierra Nevada, New Belgium and Sam Adams. Brew Haven is co-hosted by the Trion and the
MASH
(Fort Wayne home brew club) Club. A portion of the proceeds benefits downtown New Haven and the city's Police Reserves and Fire Department. Standard tickers are $35 in advance; $45 the day of. Purchase them
here.