Germs, germs, germs!! That's the focus of a new exhibit at Science Central. How do new and old diseases emerge? What about resistant bacteria? What does it all mean? Learn all this and more at Disease Detectives, a traveling exhibition about microbiology that puts visitors in the role of infectious-disease-fighting detectives. Visitors will enjoy the interactive nature of this exhibit, which invites them to investigate a case by meeting a series of patients, interpreting their lab tests and exploring their environment to learn more about infectious disease transmission and prevention.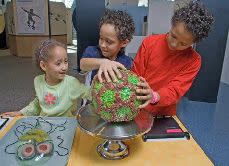 Each case highlights a different mode of disease transmission and the relevant illnesses. Hands-on topics include an introduction to diseases and disease research, and the types of food-, water-, airborne- and animal-borne diseases. The exhibition was developed by the Science Museum of Minnesota.

Science Central is a regional resource that provides inspiring and fun hands-on science education for people of all ages. Through more than 120 exhibits, school tours, distance learning programs, and weekend events, they bring the fun of science to more than 130,000 children and adults, annually. Science Central is open Wed.-Fri., 10 am to 4 pm, Saturday 10 am to 5 pm, and Sunday noon to 5 pm.

You can visit this exhibit now through Jan. 6, 2013.