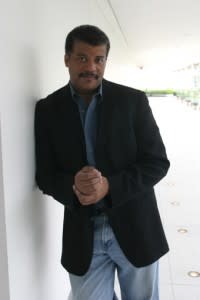 What is there to do on a random Tuesday evening in Fort Wayne? While there are many answers to this question, I believe there is one option that stands out. Attend a lecture from a world-renowned scientist. Neil deGrasse Tyson, of Cosmos fame, is coming to Indiana University-Purdue University Fort Wayne (IPFW) in a few weeks, as part of the Omnibus lecture series.
I have attended this lecture series for the past four or five years, and I can tell you there is always at least one standout speaker. Notable ones include Michele Norris, Rick Steves, David Baldacci and Sandra Day O'Connor. Quite an impressive bunch, huh?
Dr. Tyson will join this list of impressive personalities Oct. 21, and you should be excited! Tyson is a research associate at the American Museum of Natural History and the Frederick P. Rose Director of the Hayden Planetarium at the Rose Center for Earth and Space.  He is the former host of NOVA ScienceNow on PBS and is currently at the helm in FOX's reimagined Cosmos series.Tyson has served on advisory councils for NASA and former President George W. Bush, lending his expertise on space exploration, the future of transportation, and national security. In addition to authoring dozens of professional publications, Tyson is a New York Times bestselling author and frequent guest on The Daily Show with Jon Stewart, The Colbert Report, and Real Time with Bill Maher.
If you're ever watched Cosmos, you already about his cerebral yet accessible approach to science, channeling Carl Sagan. I imagine his lecture will follow a similar model. You're in for a real treat!
Following the lecture, there will be a time for a question and answer session.
Dr. Tyson's lecture begins at 7:30 p.m. Tickets are free but required in advance to attend all lectures. Tickets should be acquired about three weeks before each event and are available online or by calling the Larson Box Office at Gates Athletic Center, at 260.481.6555. Parking is free for all events, which take place at The John and Ruth Rhinehart Music Center in the heart of IPFW's campus. The campus is located just off of North Coliseum Boulevard on the city's near north side.