Visitors can get up close and personal with a historic treasure.  The Fort Wayne Railroad Historical Society invites the public to see Engine No. 765, from 10 am to 4 pm Aug. 16-18 in nearby New Haven.  Restored and operated in public exhibition and on passenger excursion trains throughout the country, no. 765 is powered entirely by volunteers as part of the Fort Wayne Railroad Historical Society's education outreach programs and ongoing restoration efforts.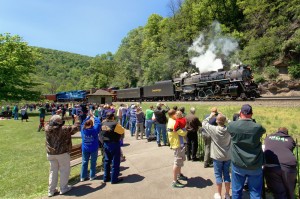 This locomotive was built in  1944 for the New York, Chicago, & St. Louis Railroads, which was later nicknamed the Nickel Plate Road.  This jewel was retired by the railroad in 1958, but thanks to the efforts of the Fort Wayne Railroad Historical Society, visitors can experience it in its former glory today. Currently,  it operates in public exhibition and passenger excursion service throughout the country, as one of the last operating steam locomotives left in the world, and one of the largest east of the Mississippi.
The open house is the opportunity for people to see  all aspects of the locomotive.  That means visitors are invited up into the cab - where the fireman and engineer work - and they can blow the whistle, tour the locomotive, and watch hourly demonstrations as part of what is a pretty sensory experience.
Additionally, they will feature caboose rides and other displays.
Bravas Food
will be there serving hot dogs to cater to hungry bellies.
Admission is free; train rides are $4.