What's more Midwest than a juicy, salty pickle? Give up? A festival entirely devoted to this treat!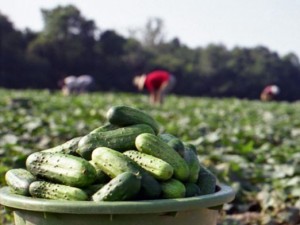 The 17th annual
St. Joe Pickle Festival
is three days of fun from August 8-10, centered around this favorite all-American snack. Join festival goers on August 8th for a parade. Then, head over to the kids coloring contest where little ones can show off their artistic talent. Bargain lovers will appreciate the bake/rummage sale at St. Mark's Lutheran Church. Then the real fun begins! Join others in decorating pickles for the Pickle Derby, starting at 7 pm. End your evening with some gospel music, from 8-9:30 pm.
Friday's agenda has similar activities, with a focus on children. Kids are sure to gravitate to the Ultra Zone, bungee jump, trampoline, and laser tag areas. Stay for the firemen's dinner and entertainment after.
Perhaps the highlight the weekend is the
Sechler's Pickle Factory
tour, 9-11:45 am on August 10. Sechler's first product  was Genuine Dill Pickles (which are still available today as Genuine "Aged in Wood" Dill Pickles). Sweet relish and sweet pickles soon followed. Learn all about their rich history and commitment to producing the most tasty pickles.
Other events throughout the weekend include food vendors and an arts and crafts show.