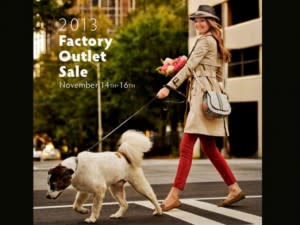 Do you need an excuse to round up the girls for a girls day out? Are you looking to start your Christmas shopping a little early? Or, have you really just been itching to splurge a little and get yourself a new bag or some sort? Well, you are in luck! This Thursday, Friday and Saturday, cinda b. will be hosting their factory outlet sale right here in Fort Wayne! cinda b is a company located in Fort Wayne via designer, and cinda b creator, Cinda Boomershine. They are one of the nation's fastest growing handbag, travel bag, and tote company, and everything is produced here in the United States. While their headquarters are here in Fort Wayne, their products are sold all over the US! If you've been in a boutique, gift shop, or lifestyle niche shop, chances are you've seen cinda b products. Cinda says she was inspired to start cinda b while running around between clients, and was on the search for the perfect on-the-go bag. Since then, cinda b has expanded into handbags, duffles, luggage, tech cases, laptop bags, and more that are both stylish and functional.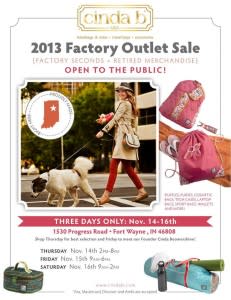 The cinda b Factory Outlet Sale will take place this Thursday (November 14), Friday (November 15), and Saturday (November 16) at the cinda b Corporate Headquarters. The merchandise on hand will consist of factory seconds, and retired colors and styles, at a heavily discounted price - meaning great deals are ahead! cinda b encourages those planning to attend to shop on Thursday for the best selection of merchandise, and to come on Friday to meet Founder & Chief Creative Officer, Cinda Boomershine. Cinda will be available for a meet & greet and bag signings.

The hours for the cinda b Factory Outlet Sale are as follows:

Thursday, November 14: 2pm-8pm

Friday, November 15: 9am-6pm

Saturday, November 16: 9am-2pm

cinda b is located at 1530 Progress Road. Fort Wayne, IN 46808.

Cash and credit cards will be accepted at checkout, so come prepared to shop until you drop! For more information on the cinda b Factory Outlet Sale, or everything cinda b has to offer, check out Visit Fort Wayne, or the cinda b website.