This post is part of our Three Rivers Festival feature series. Click here to view all Three Rivers Festival posts.

Nothing says summer like the sound of splashing water, which is why "The Sights and Sounds of Summer" theme for this year's Three Rivers Festival fits the RiverGames competitions so perfectly. Fort Wayne's three rivers will be celebrated at 1:30 p.m. on July 10 as participants pull focus to the water with three separate events during RiverGames. Kicking off the afternoon will be "The Great Canoe Race" in which participants will battle from the Wells Street Bridge to the Spy Run Bridge and back. Those who may not be up to snuff with the speed rowers can still amass a prize for the best decorated canoe, the ugliest canoe and the best costume or theme.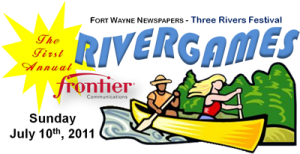 Participants of "Summit City Soaker" will have to weave their way through a course that runs between the Wells Street and Harrison Street Bridges. Competitors must retrieve flags as they are forces to dodge drizzling obstacles—giant cascades of water, for instance—to receive the top prize for this race. "Water Wars" will close out the festivities as it pits three-person teams against each other in water-balloon combat. Trios have four minutes to attempt to hit other teams stationed on the opposite bank of the river as many times as possible using 20 water balloons and a launcher. Those wishing to participate in the competitions can register starting at 10 a.m. Sunday morning of the event, and Paddle Class will be available during sign-ups for anyone hoping for a last-minute, fine tuning of their boat skills.