Where do imagination, technology, and community intersect? At 
TekVentur
e Chain Reaction Challenge, of course! The TekVenture Chain Reaction Challenge, held April 20 at the
Downtown Library
,  is an introduction to TekVenture, a community-built, public art & technology laboratory.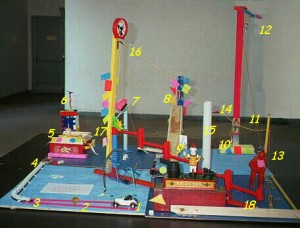 People of all ages and experiences are invited to create a machine or "link" in this sixth-annual community chain reaction. Work alone or gather a group of friends and enjoy the fun by building a contraption that fits on one six-foot table (or three-foot, for novices) and has an energy input and output that can lift a golf ball 1-inch. Your contraption will pull the string to start the next contraption. Then we'll connect the links together to make one large Chain Reaction built by our community! No open flames, smoke of any kind, dangerous chemicals, helium balloons, or more than 1 cup of water is allowed. Check out this
video
 from their last event and another on 
How to Build a Rube Goldberg Machine
. Interested in participating? Registration cost is $20.00 for teams made up of one to four people — $5.00 each for 5th and 6th team members. The number of entries available is limited. Register early to guarantee your space. Spaces are available on a first-come, first-served basis. Make checks payable to TekVenture, Inc. Please do not send cash. Download and complete the 
Registration Form
 and mail to: TekVenture, Inc. , 6928 Ludwig Circle, Fort Wayne, IN 46825.  Parental permission is required for team members under 18 years old. Download 
Permission Forms
 to complete and submit with your registration. Teams are allowed to set up starting at 9 am. Judging and demonstration is from 10 am to 2 pm. The community Chain Reaction Challenge starts at 2, with awards to follow at 3 pm.