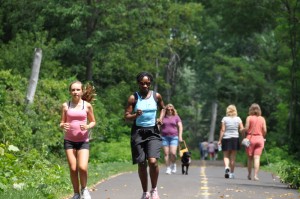 Fort Wayne is a dream come true for outdoor enthusiasts. Its 60-mile trail system and rivers welcome guests for a weekend of fun and adventure. It's perhaps the city's best kept secret: Fort Wayne has one of the finest trail systems in the Midwest! If you're looking for a scenic route, I recommend the
Rivergreenway
. This is a 24-mile long trail that follows the banks of Fort Wayne's three rivers: the St. Marys, St. Joseph and Maumee Rivers. The Rivergreenway provides a great opportunity for recreation, fitness and conservation, as well as providing an alternative transportation network safely connecting the community. The trails are a great way to meet people! Check out weekly 6 p.m. Tuesday bike rides along the Rivergreenway, the Wabash & Erie Canal Towpath Trail, the Aboite Trails, the Pufferbelly Rail-to-Trail and the Salomon Farm Trail. Helmets are required. For more information, call the Greenway office at (260) 427-6228.  Tuesday rides will continue through the summer.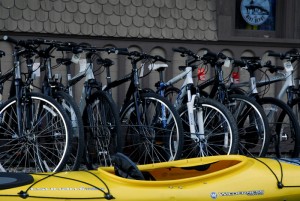 Can't get enough of the river recreation? Kayaking is a great way to cool off after a hot day on the trails. You can rent a kayak from
Fort Wayne Outfitters & Bike Depot
for an hourly rate of $10.00; half day for $25.00 (up to 4 hours) or full day for $40.00.
Earth Adventures Unlimited
on West Main Street can also take care of you. This is another great way to see Fort Wayne from a new perspective-literally.