Toys are an awfully big part of Christmas. Whether you're giving them or receiving them, there's always something new to play with waiting under the tree. I've never had much patience when it comes to, well, anything, so lucky for me I have the uncanny ability to know what's underneath the wrapping paper. Sometimes I can do it with a shake, sometimes by sight, and sometimes with a surreptitious peek under said wrapping paper, but I'm almost always right. Where do you find the best toys nowadays? The big box stores? The Internet? Sure, I shop both. But it really depends on what you're looking for. In Part II of "Geek Christmas," I'd like to talk about two local Fort Wayne stores – Clem's Collectibles and Intergalactic Toys – where you can find treasures old, new, and nerdy, the kinds you can't often find anywhere else. (Did you read Part I? Check it out
here
.) My great non-comic obsession is collecting Minimates, tiny, Lego-like figures the collection of which is, quite frankly, addicting. While Art Asylum and Diamond Select Toys produce several lines of licensed figures, my favorite – and the longest-running – are those based on Marvel Comics characters. I have four display cases just for Minimates, all of which are full and getting fuller. Clem's is one of my two "go to" places for Minimates (the other being Toys R Us, which offers series of Minimates not offered in specialty shops). Clem's carries several other toy lines, as well. You can also find new and back issues of comics, board games (think strategy games like
Axis and Allies
), card games, and tons of sports memorabilia. Located in Jefferson Pointe, it's a great place to find something special for the collectible lover in your life.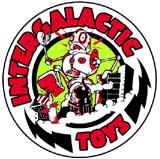 My favorite Christmas, the one of which I am fondest, is Christmas 1983. Whenever the season starts to wear thin or I'm feeling a bit cynical, memories of that Christmas renew in me the holiday spirit. I could distill from that day the essence of what it meant to be a kid: innocent, carefree, and hopped up on Star Wars, Stomper trucks, and Frankenberry cereal. Walking into Intergalactic Toys, located across from Georgetown Square, gives me that same feeling (minus the Frankenberry, of course). They have classic and current toys: some unopened, some out of the package, but all fun. The first time I visited, I spent probably three hours there. It's the kind of store that thrives because the owners and employees care as much about toys as the collectors themselves. It's worth your while to check them out. There's still plenty of time this holiday shopping season to check out these great local collectible stores. For more information about both, check out
www.clemscollectibles.com
and
www.intergalactictoys.com
. Happy hunting!