Calling all little girls who have equine blood coursing through their veins! (This shout-out is for their families, too, and for all the hundreds of horse-crazy folks and barn goddesses in the northeast IN area).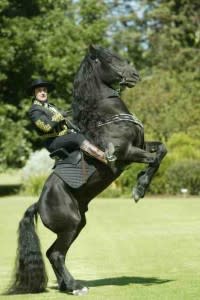 Polish those riding boots and canter on down to the Allen County War Memorial Coliseum, on Friday, September 12, 2014.  That's when "Dancing with the Stars" gives a whole new meaning to entertainment, as this superstar Gala of Royal Horses will pirouette, leap, twirl and dance in spectacular airs above the ground.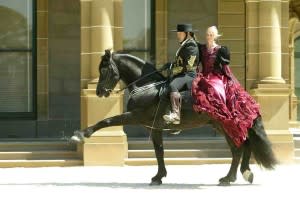 These graceful stallions are of Andalusian, Friesan, Lipizzaner and Arabian breeds that were originally trained in war maneuvers previously only seen at Spanish and Viennese riding schools.  According to Rene Gasser, the internationally-known riding master who is bringing his show to the Fort, there will also be colorful Spanish flamenco dancers and guitar music to add excitement to the evening when performing in perfect harmony with the horses. According to the website (
www.galaoftheroyalhorses.com
), Gasser has, "created, produced, and led the Gala of the Royal Horses….and with the experience of seven generations has recreated an event only previously seen at the famous riding schools in Vienna and Spain."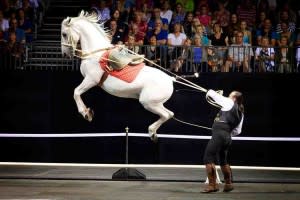 A special challenge to area riding instructors and their advanced students:  take a pair of field glasses with you and train them on the riders to see if you can detect their cues to the stallions.  I tried that one year and out of the whole evening's performance I only detected two visible cues – these riders are fantastic and rightly pride themselves on administering nearly-invisible cues to their mounts. Tickets can be purchased from Ticketmaster (1.800.745.3000;
www.ticketmaster.com
) or at the Coliseum box office (4000 Parnell Avenue, Fort Wayne, IN 46805; 260.483.1111).  Prices range from $30-75.