Update: Visit the Fort Wayne Museum of Art page for the latest events.
Known throughout the world for his exquisite glass creations, Dale Chihuly's work will be on display at The Fort Wayne Museum of Art beginning June 29. 
The exhibit titled Chihuly: Secret Garden will display works from one his most daring innovations. Creating pieces intended to interact with architecture and the natural environment, Chihuly has marveled art enthusiasts and amateur art lovers alike. Chihuly's work is showcased in over 200 museums world wide.  Having created more than a dozen well known series of works, he is one of the most well known living American artists.  Also famous for his architectural installations, his work has been exhibited in Paris at a solo exhibition titled, Dale Chihuly objets de verre, at the Musee des Arts Decoratifs, Palais du Louvre.  Chihuly has also exhibited nationally and internationally in cities such as Venice, London, San Francisco, Boston, and New York.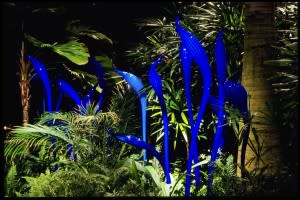 Chihuly's Blue Herons
Chihuly: Secret Garden at the Fort Wayne Museum of Art is the result of collaboration with the Franklin Park Conservatory.  Amanda Martin, Deputy Director of Administration and Programs at FWMoA tells me they jumped on the opportunity to collaborate with Franklin Park as soon as they heard about it.  "The exhibits don't become available very often," she told me.  "Fort Wayne loves studio glass and loves the notoriety Chihuly brings to the city." The exhibit is expected to attract thousands of visitors to the museum.  Over ten years ago, in 2002, when Chihuly was last displayed at FWMoA 30,000 guests viewed the exhibit.  That's five times the number of guests that typically view an exhibit at the museum.  Given Chihuly's popularity, visitors are expected from throughout the Midwest. I asked Amanda what guests should expect from the exhibit.  "We're creating a fantasy garden," she told me, "Expect a lot of drama."  This series of works from Chihuly is most commonly displayed in a garden setting, which prompted the museum to plan something extra special.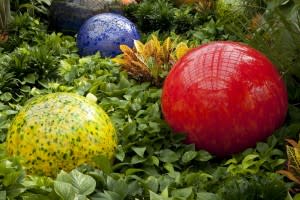 Chihuly's Niijima Floats
In addition to the exhibit, the International Glass Invitational will be on display.  This display will showcase 30 different pieces of glass art.  The Chihuly Affect exhibit will also be on display at the museum during the Secret Garden exhibit showcasing works from artists inspired by the work of Dale Chihuly.  All three exhibits will be available for viewing from June 29-September 29. Admission to Chihuly: Secret Garden is free for FWMoA members.  Admission to the museum is also free for members. Nonmembers will be charged a $14 admission to attend the exhibit.  Nonmember admission to the museum is $7 for adults, $5 for students with free admission on Thursdays from 5-8 and Sundays from 12-5.  Museum memberships start at $30.