"Keep your thoughts positive because your thoughts become your words. Keep your words positive because your words become your behavior."
Artlink
and
Love, Fort Wayne
are indeed following Gandhi's advice and think nothing but positive thoughts in the hopes they will lead to a more loving city and eventually world. Artlink and Love, Fort Wayne have teamed up to help spread #FWChalked Chalk Wall to our city. Large Chalk Walls are being installed across the city and these community art projects encourage people to share what they love about their neighborhood or downtown.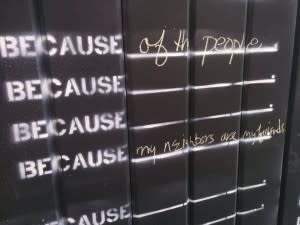 Love, Fort Wayne was started by the 2013 class of Leadership Fort Wayne and is being carried on by the 2014 class. They are working to spread a positive image for our city and involve residents  in this process. They have already begun part of this process by capturing video of different residents and community leaders sharing their feelings on the Summit City. Their partner in this project, Artlink, is a local gallery in the Auer Center for Arts and Culture. Their mission is to provide educational programming for artists and the community of Fort Wayne, and this new project is part of that effort. This latest campaign has a two-fold purpose. First, it allows Artlink to engage the community in meaningful ways beyond the gallery storefront. Second, it enables Love, Fort Wayne to continue the positive conversations about our city it intends to foster.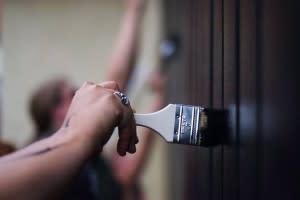 The first wall was installed last week at 
Wunkerkammer
. From its 7,000-square-foot home on Fairfield Avenue, Wunderkammer hosts carefully designed exhibits, educational programs, performances, and special events. The space is intended to be an outlet for contemporary and thought art and often hosts difficult, yet insightful works. Other future sites for the chalk walls include Firefly Coffeehouse, The Arts Campus, and Parkview Field. Everyone in both organizations is excited to see how the conversation evolves. Head down to Wunderkammer, add your input to the wall, and see what everyone else is saying about why they love our city.