Where can you go to see historical re-enactors portraying ancient Vikings, Civil War events, and early Indiana history? Fort Wayne, Indiana is home to an actual fort that you can visit! 
Check out the Historic Old Fort at 1201 Spy Run Avenue in downtown Fort Wayne. To help you plan a year of history fun, I've compiled a list of the Old Fort's free events happening in 2020 below. To make the experience even better, admission is free (though donations are always welcome) and events offer hands-on fun for all ages.
Discover Living History at The Old Fort in 2020
Nouvelle Annee
Saturday, January 25, 10 am – 5 pm
Part of the Winterval festivities in downtown Fort Wayne on January 25, experience reenactments of French Soldiers, civilians, and Native American Allies as they battle the winter elements during the French and Indian War. An immersive day of living history awaits at the Post des Miami – which would one day be known as Fort Wayne. Welcome the arrival of a new post commandant following the capture of the prior commander by the English, help the garrison hunt for food along the Three Rivers, and fall into drill along with the soldiers of His Majesty's Troupes de la Marine.
1812 Winter Garrison
Saturday, February 22, 10 am – 5 pm
Before Indiana was a state, it was a territory – and it was one of the westernmost American outposts in 1812. Besides being a military post, the fort was also home to the soldiers. In the wintertime, there were challenges to be faced beyond the routine duties of guarding and drilling. Come see how the people of the fort handled those challenges, from keeping the living quarters warm to cooking meals and negotiating the potential danger of cold.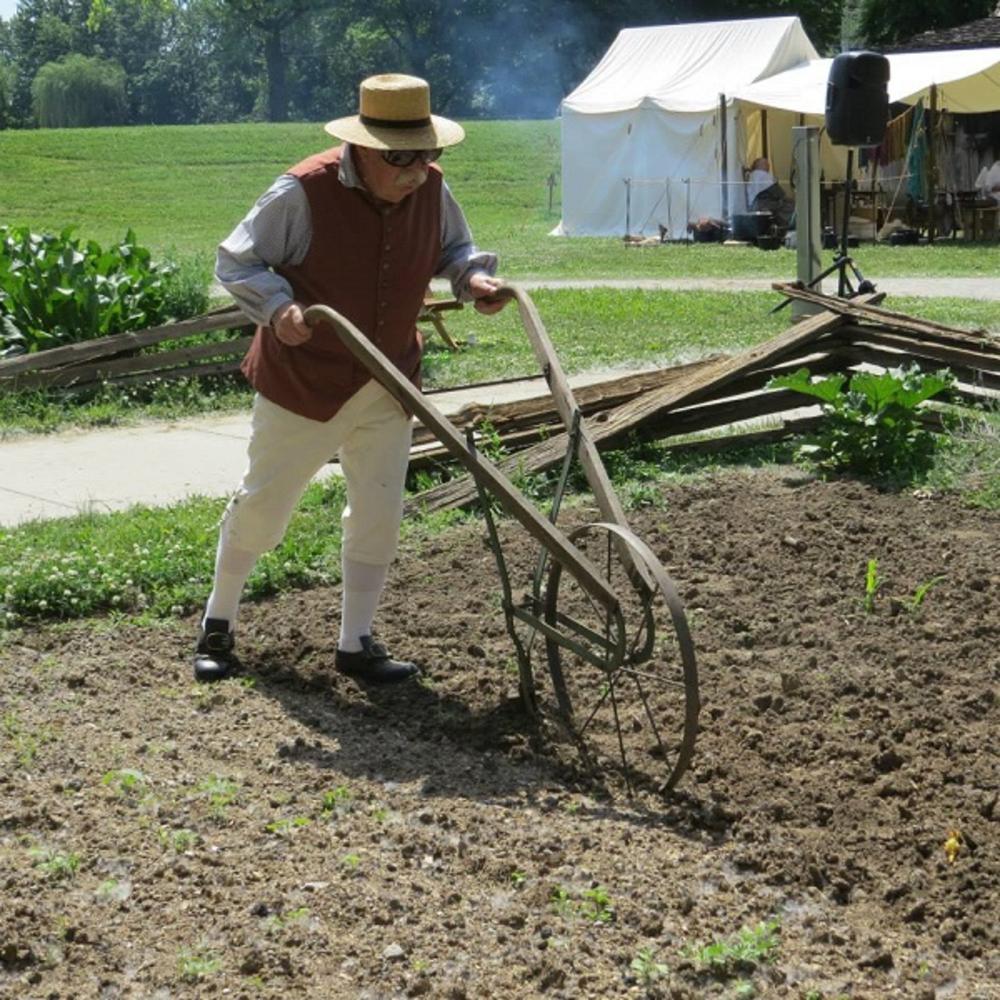 Colonial Winter Garrison 1775 - 1783
Saturday, February 29, 10 am – 4 pm
Step back a few years from 1812 to the American Revolutionary War. If you remember the struggle American forces had in trying to keep it together during the winter at Valley Forge, then you'll want to check out how the re-enactors here are tackling the same sorts of challenges with George Washington-era equipment. From tri-corn hats to gaiters, the American forces had many creative ways to survive the cold – and the British.
Civil War Garrison
Saturday, March 7, 10 a.m. – 5 p.m.
The 5th Texas Spangtown Mess is coming to demonstrate drill and training techniques from the Civil War era. This group has appeared at many different events, including the 150th anniversary reenactment of the Battle of Manassas/Bull Run, the surrender at Appomattox, and the major Civil War re-enactment events.
13th Pennsylvania Drill
Saturday, April 25, 10 am – 4 pm
How did people live in colonial America? Cooking, sewing and more will be demonstrated at this event. Local historical interpreters from the 13th Pennsylvania Regiment of Foote – a northeast Indiana group – will be on hand to help you learn.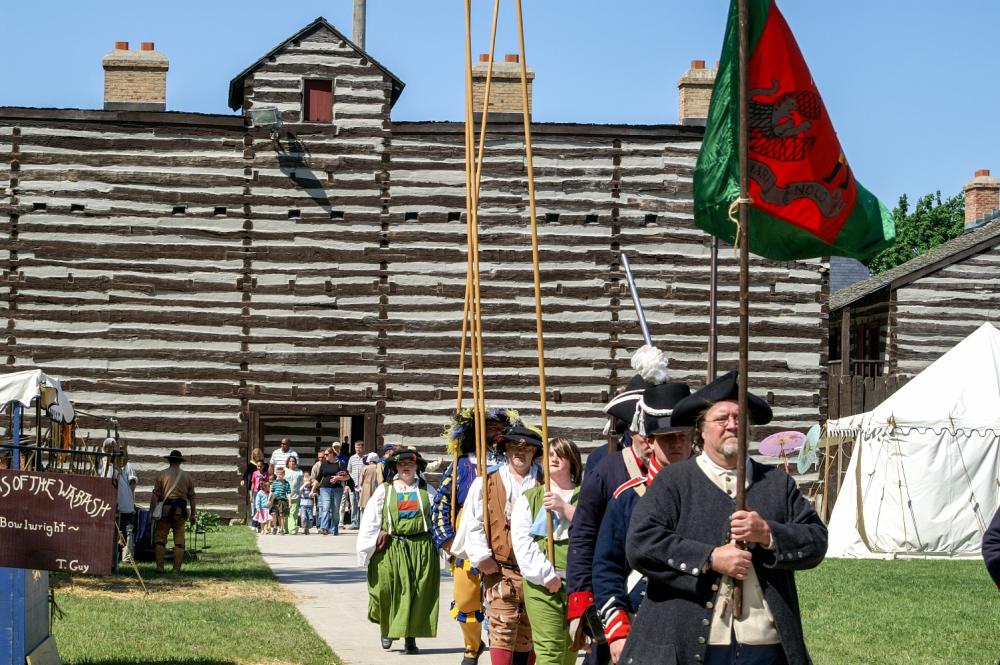 Muster on the St. Mary's
Saturday, May 9, 10 am – 6 pm
Sunday, May 10, 10 am – 4 pm
This is a timeline event, meaning that there will be many different time periods of history displayed. In fact, the Old Fort says there will be up to 2000 years' worth of period ensembles! If you ever wanted to see a Viking, chat with a French inhabitant, snap a photo with Benjamin Franklin or check out WWII gear, this is the time and the place. In addition to military exhibitions, you'll also find demonstrations on cooking, gardening, and more activities from many different time periods.
Saturday, June 6, 10 am – 6 pm
Sunday, June 7, 10 am – 4 pm
This event commemorates a most critical time during the early years of the United States. During the War of 1812, Fort Wayne was the last standing American fort on the western front. In August of 1812, the fort came under siege by British-backed American Indians. There was no pitched battle, although some American soldiers perished. In September of that year, General William Henry Harrison arrived at Fort Wayne and the besiegers disappeared into the woods. Later efforts were made by the British to travel up the Maumee River and capture Fort Wayne, but General Proctor and his forces never reached the Fort. At this weekend's event, there will be military maneuvers and artisan demonstrations, including blacksmithing, weaving, gunsmiths, woodwrights, and traditional music.
Saturday, July 11, 10 am – 6 pm
Sunday, July 12, 10 am – 4 pm
This is another timeline event, where many different eras are being portrayed. Folks at the Fort are unsure of just which eras will be represented – re-enactors could be demonstrating the Middle Ages, American Indians, Civil War, WWII, or just plain non-combatants, eking out a living in the past. Come to find some real surprises!
Saturday, August 22, 10 am – 6 pm
Sunday, August 23, 10 am – 4 pm
Did you know that the Fort Wayne area was considered a French-held territory for some time during the early 1700s? Come take a closer look at that part of our history during the Post Miami demonstration. Due to results from different conflicts in Europe, control of the region was switched to British hands during the 1760s, which is why you will see French fur trappers, French military drills, Imperial soldiers from England, American Indians, and more – all meeting to represent a time of change in Indiana.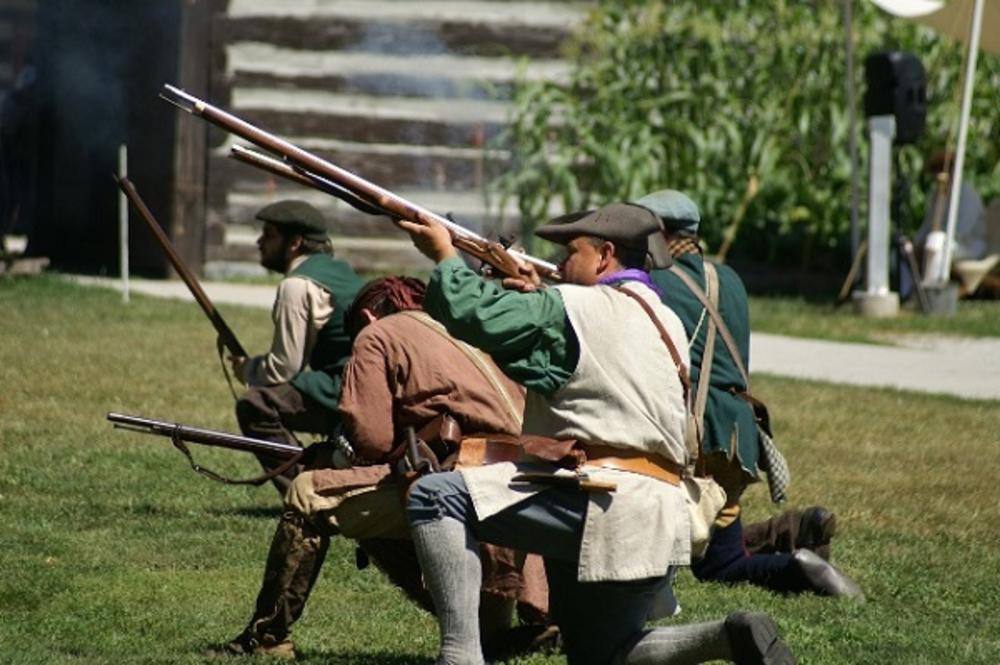 Add these other Old Fort events to your calendar for 2020:
Be a Tourist in Your Own Hometown — September 13, 12 pm – 5 pm — Be a Tourist in Your Own Hometown is an annual day where many of Fort Wayne's top attractions are open for FREE for the day. The Old Fort invites you to enjoy demonstrations, tours, and hands-on activities.
Fright Night Lantern Tours — Saturday, October 17, 6 pm – 10 pm — The Old Fort joins the annual Fright Night festivities in downtown Fort Wayne, with guided tours of the Old Fort grounds through the dark, lit only by lantern light. This fun, spooky event is a favorite each year!
Joyeux Noel — Saturday, November 28, 11 am – 5 pm — Experience Joyeux Noelle: A festive French Christmas at the Old Fort! Step back in time and welcome the holidays, reveling in a time when French-speaking inhabitants celebrated Christmas and New Years on the three rivers.
Stay tuned and check back for more event details added for the fall and winter.
Can't make it to one of the events, but still want to explore the Old Fort? No problem! The Old Fort grounds are always open, even when events are not taking place – though the buildings are only open during events. 
Learn more on the Old Fort website. They also post the schedule of activities the week before each event!