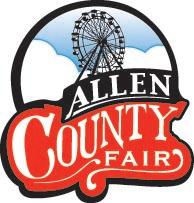 Nothing brings you back to a simpler time than visiting the Allen County Fair.  This event celebrates animals raised by 4-H participants, local traditions, musical performances, and just plain fun. 
The County Fair is Tuesday, July 23 through Sunday, July 28 at 2726 Carroll Road in Fort Wayne. I remember going to the County Fair when I was younger to see all the animals.  Many young members of 4-H proudly display the animals they care for at the fair, and I thought it was great to see young kids taking a part in raising these animals. 
One of our other Insider Bloggers, Whitney, even learned how to hold a chicken during her visit to the fair.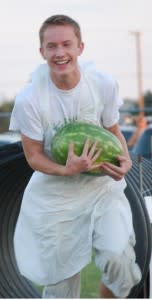 Another event at the fair that's sure to be a lot of fun is the Greased Watermelon Contest, where teams carry a greased watermelon through an obstacle course without dropping or smashing the fruit.  The course is complicated because only kids ages 5-14 can race, so I'm not sure how they're going to run with such large watermelon.  This event takes places Tuesday at 8 p.m. on the Waterball Court. Admission to the Allen County Fair is $5, and children 5 and under are free.  There is a senior discount on Wednesday and a $2 discount on Sunday if you bring a non-perishable food item.  Some specific events at the fair do cost extra—check the fair's full event listing for exact prices.  Parking is free.
Here is a listing of special events at the Allen County Fair:
Tuesday: Monster Truck Show, 7:30 p.m. at the Pull Strip ($7) K105 Karaoke Contest, 8-10 p.m. at the Free Activities Stage
Wednesday: Team Pig Wrestling, 7:30 p.m. at the Pull Strip ($3) Live 4:1 Music Performance, 8-10 p.m. at the Free Activities Stage
Thursday: Ricksaw Races & Redneck Relay, 8 p.m. at the Pull Strip Sugar Shot Performance, 8 p.m. at the Free Activities Stage Hot Air Balloon Fly Out, 7:30 p.m. at the Pull Strip Hot Air Balloon Glow, 9:30 p.m. at the Pull Strip
Friday: 4x4 Truck Pull, 7 p.m. at the Pull Strip ($5) Biff & The Cruisers Performance, 7-10 p.m. at the Free Activities Stage
Saturday: Car Demolition Derby, 7:30 p.m. at the Pull Strip ($7) Brother Performance, 8-10 p.m. at the Free Activities Stage
Sunday: Mini Derby/Car Hockey, 1-3 p.m. at the Pull Strip ($5) Living Stones Performance, 1-3 p.m. at the Free Activities Stage