What is cool, colorful, sweet, and busy all the time? Fort Wayne's frozen yogurt trifecta, that is what! If you are looking for a good and affordable way to cool off at the end of a hot summer day, then you don't have to look far. There is a serve-yourself frozen yogurt shop close to you.
The trio of Fort Wayne frozen yogurt shops includes Yo Yo: Yogurt on Your Own, Zoyo, and Yum Yums: Yogurt U Make. All three businesses feature a wall of self-serve machines offering up yogurt options for the customer to mix and match. Then the patron can belly-up to the toppings bar and decorate their yogurt selection with everything from DeBrand chocolate pieces (Yo Yo) to Fruity Pebbles.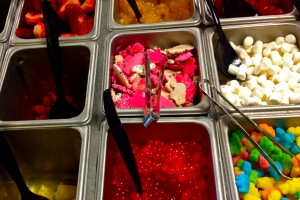 The yogurt flavors at each shop range from your standard vanilla to lemon sorbet to caramel and salted pretzel flavors. There is a little something to entertain all tastes. Also, each shop offers nonfat, dairy free, and sugar free options. Yo Yo offers the largest number of nonfat and non-dairy options and Zoyo offers waffle cups (who doesn't love an edible container?).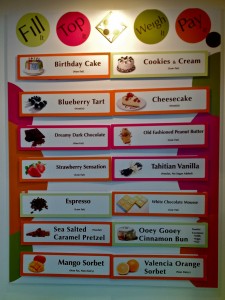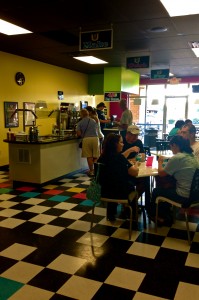 An evening of frozen yogurt is tasty and fun, but there are a couple of important things to remember. The cost of the yogurt is determined by weight and the cups are all one size. Be aware of how much you are putting in your cup, I have seen a family of four end up with a $20 yogurt tab.
Survey all the options before you decide. At Yo Yo and Yum Yums you can take advantage of the tasting option to be sure you will like what you get. As my daddy says, prior planning prevents poor performances!
Yo Yo and Zoyo offer outside seating, which is perfect for a warm summer night. Speaking of decor, all three shops are brightly colored and decorated in a fun, kid-friendly style. The environment really makes a trip for frozen yogurt feel like a special treat.
Icy desserts are a summer staple. Make yours frozen yogurt - it is customizable and affordable - the perfect summer treat.
Zoyo 
Hours: Monday-Saturday: 11:00 am-10:00 pm; Sunday: 11:00 am-9:00 p.m.
Cost: $0.42 per ounce
Location: 1034 Thomas Road Suite 116, Fort Wayne, 46804
Yo Yo - Yogurt on Your Own
Hours: Monday-Thursday  11:00am–10:00pm;  Friday-Saturday  11:00am–11:00pm; Sunday 1:00pm–9:00pm
Cost: $0.40 per ounce
North Location: 10015 Lima Road, Fort Wayne, IN 46818
South Location: 9930 Illinois Road, Fort Wayne, IN 46804
Yum Yums - Yogurt U Make 
Hours: Monday-Thursday  11:00am–10:00pm;  Friday-Saturday  11:00am–11:00pm; Sunday 1:00pm–9:00pm
Cost: $0.42 per ounce
Location: 10454 Maysville Road, Fort Wayne, IN 46835
Red Mango
Hours: Monday - Thursday 10:00am - 9:00pm; Friday - Saturday 10:00am - 10:00pm; Sunday 12:00pm - 8:00pm
Cost: $0.59 per ounce
Location: 4120 West Jefferson Blvd., Fort Wayne, IN 46804