What goes together better than peanut butter and jelly? How about live music and Friday nights?
If you agree, then you will be happy to hear that Friday Nites Live returned to Jefferson Pointe Friday June 1 and will run until September 7. Friday Nites Live is a free summer concert series that showcases a different local band every Friday night throughout the summer. The music ranges from rock to jazz, country to classical, and anything in between.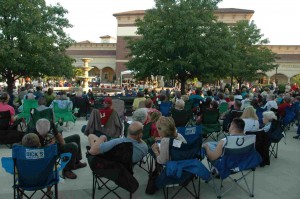 Concert goers are encouraged to join the fun at the fountain for good music and fun times. Music starts at 6:30 pm and goes until 8:30 pm.
Bring your lawn chairs or blankets to sit on, stop at one of the many restaurants at Jefferson Pointe for dinner, or bring your food with you to enjoy the music.
Here is a schedule for the summer:
June 22 Rosemary Gates
June 29 My Lost Tribe
July 06 Allan and Ashcraft
July 13 Sierra Shame
July 20 Blue River Big Band
July 27 Juke Joint Jive
August 03 New Millennium Orchestra
August 10 Fawn Liebowitz
August 17 James and the Drifters
August 24 Urban Legend
August 31 Ty Causey
September 07 Goodnight Gracie
For more information on Friday Nites Live and other events at Jefferson Pointe, visit http://www.jeffersonshopping.com/