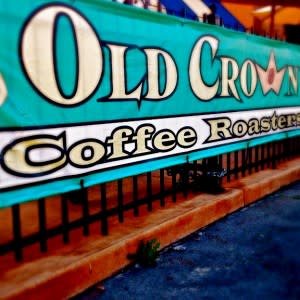 Are you looking for a gourmet dinner with eclectic cocktails and attentive, helpful service along side freshly baked bread? Does real food without artificial flavoring and other non-food substances interest you? Are you interested in a unique local experience? If you answered yes to any or all of these questions then you must make plans to dine at Old Crown Coffee Roaster Cafe's Friday night dinner.
Every Friday night from 6:00 p.m. until 9:00 p.m. Chef Johnny Bojinoff and the Old Crown team prepare dishes especially selected for that Friday. Each week the menu includes appetizers, four entrees, and dessert as well as suggested wine and beer pairings for each. The entree selections always include vegetarian, chicken, and fish options and the fourth is the chef's choice. The team focuses on serving good food, real food. That is why they try to source their ingredients locally. And when I say local, I mean local - they have a garden out back where this year's tomatoes, among other things, will be born.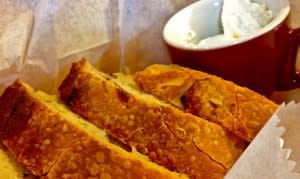 I started my meal with a of couple slices of fresh bread and a cup of the sweet potato black bean soup with chorizo rice and sour cream.  The bread was nothing short of fantastic. It was made with rosemary and potato (yes, potato!). I had to physically move the bread away from me to stop myself from eating more. The soup was wonderful - the texture of the sweet potatoes along side the black beans was surprisingly good (not too smooth or soft) and the spice level was right on time. I would have had seconds.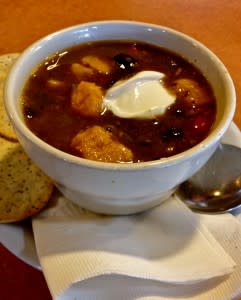 Next, I thoroughly enjoyed the basil thyme Pacific jackfish with sweet potato pancakes, broccolini, and garlic lime sour cream. The jackfish was generously crusted with the basil and thyme giving it great savory and comforting taste. The fish was perfectly cooked as was the broccolini (not mushy but not raw, just how I like it). The big surprise of the dish were the sweet potato cakes. The cakes were not what I expected. They were way way way better than I expected. When I think pancake I generally think flat, kind of bread-like, and browned. These cakes were not flat, bread-like, or browned. The sweet potatoes were thickly shredded and cooked long enough to make them flavorful but not long enough to make them limp. I could not get enough. It was the perfect compliment to the tang of the lime sour cream and the savory fish and broccolini. I was pleased.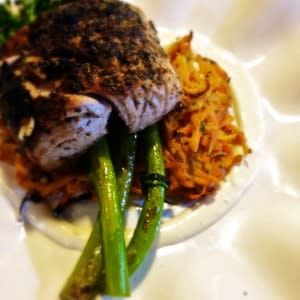 The atmosphere at Old Crown is pleasant. The lights are slightly dimmed, the tables are comfortably spaced, and there is a five or six stool bar area where those dining solo or those who are there for a drink can park. I sat at the bar and enjoyed great conversation with the staff, who were interested in answering all my questions and helping me make selections based on what I enjoy. I was also able to watch the chef at work. The lovely atmosphere that permeates the dining area at Old Crown very clearly starts in the kitchen. The staff laugh and smile at one another. Periodically the chef comes out to the bar area and requests wine to use in a dish. Drinks are passed over the bar to servers. All at the same time. It kind of feels like a home. A really packed home.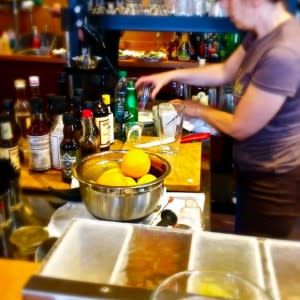 When a friend told me I needed to visit Old Crown she immediately insisted that I need to go early, right at 6:00 p.m. She was right. I arrived just minutes after 6:00 p.m. and the only remaining seats were at the bar. Also, the chef only purchases what he estimates he will need for the night, so if you show up too late you might not get to enjoy the entree that you had your heart set on. The menus are posted on Old Crown's Facebook page on Thursday so you can properly prepare for Friday. The make-up of the crowd at dinner was all over the place. There were many couples doing date night dining, but there were also groups, families with children, and a couple of solos (like me).  The entertainment of dining at the bar made it hard to notice that I was dining alone. So, if I were asked whether I am going back for another Friday night at Old Crown? I would say, yes. Solo or not. Old Crown is located at 3417 North Anthony Boulevard in Fort Wayne.