The U.S. Air Force Band of Flight will present a concert titled "Freedom?s Call" on the evening of November 11 at the Allen County War Memorial Coliseum in honor of Veterans Day.
The concert will begin at 7:00 p.m. in the Coliseum's main arena. There will be no charge for admission to this non-ticketed event. Special floor seating will be offered to veterans, current military personnel and their families.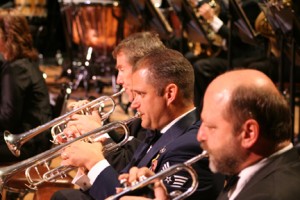 "On November 11th, our community will be afforded an extraordinary opportunity to recognize and honor the veterans from Allen and surrounding counties while enjoying a free night of high-quality music performed by a first-class band at our region's premiere entertainment center," said Nelson Peters, president of the Allen County Board of Commissioners, who along with the Memorial Coliseum and the Allen County Council of Veterans, is making this event possible.
The Band of Flight, stationed at Wright-Patterson AFB near Dayton, Ohio, is one of twelve bands in the Air Force. The concert band entertains hundreds of thousands of people each year with its dynamic performances. Its varied repertoire ranges from classical symphonic compositions and military marches to Broadway show tunes and popular contemporary music.
"We are very excited about bringing our Veterans Day program to Fort Wayne and appreciate the support we are receiving from the community," said Major R. Michael Mench, commander of the Band of Flight. "We honor our nation's veterans every time we perform, but this concert will be an opportunity for us to pay special tribute to their lives and sacrifices on the day our country also pays tribute."
"This should be a Veterans Day to remember – and we hope everyone will come out and enjoy "Freedom?s Call," added Commissioner Peters.