This November, the Fort Wayne Museum of Art launched twin exhibits exploring the efforts of a group of men and women, who, in 1961, were arrested for peacefully protesting segregation laws in the American South as part of their "Freedom Riders and Bus Boycotters" exhibit.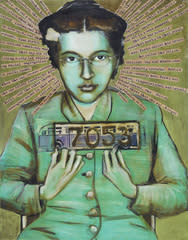 Artists Charlotte Janssen and Eric Etheridge will have displays for this exhibit. Each exhibit features portraits inspired by the original mug shots from the arrests, one taking form in oil painting collages, the other in black and white photo-journalism.
Charlotte Janssen's exhibition will be on display at the Fort Wayne Museum of Art November 17, 2012 through January 27, 2013, with a visit to Fort Wayne with Freedom Rider Janet Braun-Reinitz for a gallery discussion on November 16 at 7:00pm.
Eric Etheridge's exhibit runs from November 14 December 30, 2012, with a lecture and book signing by Etheridge on November 29 at 6:00 pm.
There is so much to learn about these brave and pioneering people of the civil rights movement. I highly recommend you stop by with family and friends to check it out! Both visiting artist events are free for FWMoA Members, and $5.00 for Guests. Visit www.fwmoa.org for details on the exhibitions and related programming.