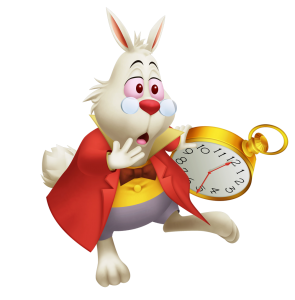 The Fort Wayne Youtheatre is coming to you!  From now through August 3, the children's theater group will be traveling around Allen County performing "Down the Rabbit Hole" for free.  This show by kids and for kids tells the story of the White Rabbit as he finds his way to a tea party.  He'll meet other storybook characters like the Mad Hatter and the Queen of Hearts. The show will have songs, rhymes, audience participation, dance, and even ticket giveaways to other arts events. 
It's part of Storybook Theatre, a Youtheatre touring troupe that performs four different shows each year. Fort Wayne Youtheatre began in 1934.  The president of what was the Civic Theatre directed a committee to create a children's group.  They performed one show a year, and tickets cost ten cents for children.  Today, Fort Wayne Youtheatre offers classes and other opportunities for kids looking to improve their acting, comedic timing, or radio skills.
Here are the dates and locations for "Down the Rabbit Hole:"
July 19 – 10am Gingerbread House & 11am Jennings Center
July 22 – 10am Abacus Learning Center
July 30 – 10:30, 1:30pm, 2:30pm Main Library, Globe Room
July 31 – 1:30pm Hessen Cassel Library
August 1 – 12:30pm Shawnee Library
August 3 – 10:30am Dupont Library For more information on the Storybook tour and other ways to get involved, check out Fort Wayne Youtheatre's website.