This post was originally published in 2019. For updated event dates, please visit our Calendar of Events. 
Looking to save on your next weekend getaway? Take a budget break in Fort Wayne, Indiana with affordable attractions, and plenty of FREE festival fun!
As the second-largest city in Indiana, Fort Wayne is a hidden gem for families looking to take a city break and explore the Midwest.
Fort Wayne's summer festivals are always a favorite for locals and visitors alike. From cultural celebrations to food festivals and family-friendly fun, Fort Wayne has a festival for you! Mark your calendars for these 13 festivals that will help you save on your next getaway.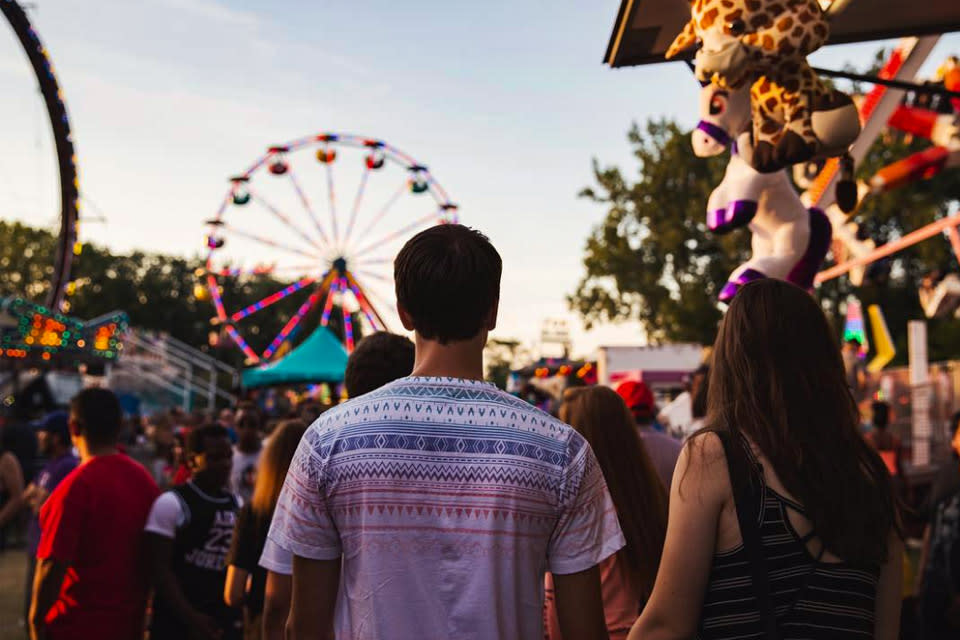 13 FREE Summer Festivals in Fort Wayne, Indiana
1. New Haven Canal Days
When: June 1-5
Where: Schnelker Park, 956 Park Avenue, New Haven, IN 46774
FREE: Celebrate the Indiana's heritage and hospitality at New Haven Canal Days with FREE admission, a parade, and more. Some purchase may be required for food and other activities. 

2. Germanfest
When: June 8-12
Where: Festival Tent, Headwaters Park at 333 S. Clinton St.
FREE: Enjoy FREE admission to Germanfest's main Festival Tent from 11:00 to 2:00 PM. Watch performances, listen to music, and enjoy a classic Bratwurst (purchase required.) Plus, the festival features FREE events including Familienfest on Saturday, June 8th. Familienfest includes fencing demonstrations, magician performances, dancing, and more. 
3. Urban Turtle Festival
When: June 26
Where: Eagle Marsh Barn, 6801 Engle Road
FREE: The Urban Turtle Festival will include a FREE Family Festival on Sunday, June 9 from 1-5:00 PM. Turtle lovers and anyone looking for a fun outdoor activity can enjoy educational stations, activities, and presentations for FREE!

4. Gearfest
When: June 24 & 25
Where: Virtual 
FREE: Enjoy FREE admission to Gearfest, a two-day festival featuring everything music and music gear! Gearfest has music gear for purchase, and plenty of FREE workshops, performances, and giveaways for those looking to only browse!

5. GreekFest
When: June 23-26
Where: Headwaters Park, 333 S. Clinton St.
FREE: Enjoy FREE admission to Greek Fest is available Thursday, Friday, and Saturday from 11:00 AM to 4:00 PM, and Sunday all day! Celebrate with daily performances by traditional Greek dancers, and live entertainment. Of course, you can't enjoy Greek Fest without trying some of the food vendors (purchase required.)

6. Three Rivers Festival
When: July 8-16
Where: Throughout Fort Wayne, and at Headwaters Park, 333 S. Clinton St.
FREE: The Three Rivers Festival offers a variety of FREE spectator events including the opening day parade, closing fireworks, Chalk Walk, art in the park, and so much more. 
7. St. Joe Pickle Festival
When: July 14-16
Where: St. Joe, IN
FREE: Have you ever wanted to tour a pickle factory? Now is your chance to take a FREE tour of the Sechler's Pickle Factory during the St. Joe Pickle Festival!

8. Pride Fest
When: July 22-23
Where: Headwaters Park, 333 S. Clinton St.
FREE: Fort Wayne's Pride Fest offers free admission to Kids 12 and under on both days. Plus, KidSpace is a free event featuring games, prizes, a magic show, inflatable moonwalk, giant slide, and wrecking ball for Children under 12 on Friday, July 26 from Noon to 6:00 PM. 
9. Harlan Days 
When: August 5-7
Where: Harlan Community Park
FREE: You're invited to Harlan Days, a FREE admission community celebration. The festival is not completely free some activities including Hot Air Balloon rides, drag racing, food, and more are all for purchase!

10. Dragon Boat Races
When: August 6
Where: Promenade Park, Corner of Superior and Harrison Streets in Downtown Fort Wayne
FREE: The Dragon Boat Races are a family-friendly spectacle that offers FREE children's activities, an Athletes Village for socializing, and, of course, Dragon Boat Races. The race is a beautiful display of decorated boats manned by 20 paddlers, which celebrates a traditional Chinese war exercise. Grab your seat in Promenade Park for this epic race down the St. Marys river.

11. Taste of the Arts 
When: August 27
Where: Arts Campus Fort Wayne, 300 E Main St.
FREE: Admission to Taste of the Arts is FREE! Celebrate the arts and culture of Fort Wayne with a variety of FREE performances, and hands-on activities for kids. The festival also features a taste of Fort Wayne's great restaurants at a number of the restaurant vendor tents, purchases are necessary.
12. Grabill Country Fair
When: September 8-10
Where: Grabill, IN
FREE: Enjoy Grabill's country-style  fair that highlights the area's Amish heritage with a parade, entertainment, kids events, and more. Some activities, entertainment, and food require purchases.