As the summer rolls on, take advantage of free movies every Wednesday night at the Foellinger Theatre. These family-friendly movies begin at 9 p.m. from June 19 to August 14.  The theatre has ample parking nearby in a well-lit lot. 
Many of the films shown were big blockbusters in the past few months.  This series is great if you didn't have time to catch these movies during the busy school season.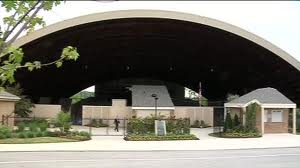 Foellinger Theatre is an outdoor performance space nearby the Fort Wayne Children's Zoo and Franke Park. 
The theater is named after Oscar Foellinger, the former publisher of the News Sentinel.  With an open-air feel in a covered arena, this theater has individual and bleacher seats to fit up to 2,500 people.  I attended a youth symphony concert at Foellinger Theatre a few weeks ago, and I was really surprised and pleased by the experience. 
Even though it was very hot outside, inside the theater was cool and the seating was comfortable.  There were clean bathrooms and a good selection of snacks for purchase.
Here's a list of this summer's films:
June 19 – Madagascar III
June 26—ParaNorman
July 3—Rise of the Guardians
July 10—Thunderstruck
July 17—The Pirates: Band of Misfits
July 24—Brave
July 31—The Lorax
August 7—Hotel Transylvania
August 14—Oz: The Great and Powerful