In recent years, you may have noticed many new street art sculptures and murals pop up around the downtown Fort Wayne area. Make sure you also keep a look out for new installments in downtown crosswalks, as Artlink will be sourcing two artists to design and install two crosswalk murals on the downtown Fort Wayne arts campus in the Summer of 2016.
According to Artlink, the murals will bring a vibrancy to downtown, increase the visibility of pedestrians, and hopefully inspire more crosswalk murals.
Bike Rack Sculptures  
If you're looking for a specific street art activity a great way to see all the art is by simply taking a walk or bike ride around town. Plan your route now with the Sculpture with Purpose brochure listed here, and you might even see a mural or other large sculptures on your journey. Try to find each sculpture and make sure you document your experience by sharing your favorite sculpture on social media using #MyFortWayne.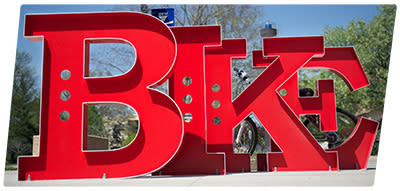 Large Sculptures and Statues
On the Arts United Campus, you can see the large art statue in front of the Arts United Center, or mosey on down to Freimann Square where you can learn about the history of Anthony Wayne at the statue located on the corner of Calhoun and Main street.
If you want to drive around to see all the great bike rack sculptures and larger art sculptures, make sure you make a pass around the Superior Circle roundabout located at the junction of Fairfield Avenue, Ewing, Superior, and Wells streets.
Architecture 
Lastly, don't forget to look up, where you can see various architecture and unique building styles all around this beautiful city. P.S. you can also take a walking tour of Fort Wayne and see many of the great art and architecture in Fort Wayne.
If you're looking for more public art stop in at Fortezza or 816 Pint & Slice where you can art decorated throughout, or check out the City Exchange shops (use Katie's post) where local artist Alexandra Hall has a pop-up shop. You can even see local art when you land at the Fort Wayne International Airport.&