I am a food snob. I can't help it. Life is too short to waste time eating something that doesn't taste delicious. And, when it comes to burgers, I am particularly snobby. I won't tolerate a wimpy burger. Fortunately, Fort Wayne knows how to do burgers. Here are my top 3 choices for best burgers in town, followed by the top 3 crowd sourced from Twitter.
1. Henry's Burger  made to order with a plethora of topping choices, including avocado, bacon, blue cheese, jalapenos, sprouts, and several varieties of cheese, this burger is classic in every sense of the word. A thick, juicy burger served on an onion bun, it's absolute perfection. If you're looking for a great burger served in a comfortable neighborhood setting, this is the one for you.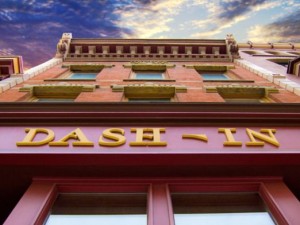 2. Dash In's
 Ciderhouse Burger  black angus beef, charbroiled to order and served with Crispin cider glazed onions, bacon and Gouda cheese on a toasted onion roll. My mouth waters just typing that description. The tangy sweet flavor from the Crispin Cider onions pairs well with the mild Gouda and the savory Black Angus beef. And of course, it has bacon. Need I say more?
3. Kaysan's 5th Down's Bulgohgi Burger I am a big fan of mixing traditional American fare with international flavors. Bulgogi sauce is a traditional Korean marinade made with soy sauce, sesame seeds, oil, garlic and a little sugar, lending a unique and powerful flavor to any meat. This burger is Certified Black Angus marinated in Korean spices and served on your choice of onion or Kaiser roll. I am partial to the onion roll, but you simply can't go wrong either way.
Crowd sourced:
1. Five Guys' Bacon Cheeseburger  known across the nation for their stacked and loaded burgers, Five Guys soared to the top of the list when I reached out to Twitter for feedback. The Bacon Cheeseburger comes loaded with lots of gooey cheese and a generous serving of bacon. The fries are pretty famous too; a natural fry with the peel still on, they are typically stuffed into the bag.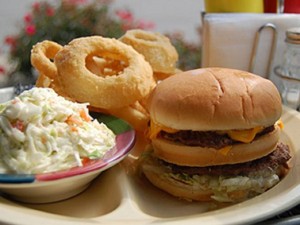 2. Hall's Big Buster Burger
Perhaps the most well-known burger in town, the Big Buster Burger is a must-try for anyone visiting Fort Wayne. It's a sizable double decker hamburger with cheese, shredded lettuce, and Don Hall's famous sauce. Though not the fanciest on this list, it's definitely a classic.
3. Red Robin's Royal This monster burger combines two of my favorite things: burgers and breakfast! Crowned with a fresh fried egg and topped with hardwood smoked bacon, American Cheese, crisp lettuce, fresh tomatoes and mayo. I am not kidding when I say it's monster. You won't be leaving hungry if you give this one a try.
Honorable mentions, solely because they aren't offered all the time: Bravas Burger Nights and Tuesday Burgers at The Oyster Bar.
If you get a chance to try burgers from either place, I highly recommend it.