Looking for a fun, musical getaway? As a Midwest Music City, Fort Wayne, Indiana has plenty of music experiences left in 2019! Here are 12 concerts I'm most looking forward to in the next few months. 

Best Fall and Winter Concerts in Fort Wayne, Indiana
1. Dave Koz and Friends
September 5
The Clyde Theatre
This Los Angeles-based group of gifted jazz musicians is coming to The Clyde Theatre, one of Fort Wayne's most exciting new music venues. And every ticket to Dave Koz and Friends includes a free download of Koz's upcoming music. What's not to like?
2. NF
*Sold Out*
September 27
The Clyde Theatre
Nathan Feurstein—or "NF" to his millions of fans—is a Michigan-based rapper, whose rise to hip-hop fame has been swift and mighty. Fans will hear his hit song Let You Down and many other favorites this September at The Clyde Theatre!
3. Disturbed
October 7
Memorial Coliseum
This Grammy-winning, Chicago-based heavy metal band has enjoyed a decade of music-making. Perfect for the Halloween season, Disturbed will tour with fellow heavy metal band In This Moment, which has an impressive following in its own right. 
October 18
The Clyde Theatre
Ben Folds hardly requires an introduction. His cross-genre approach to music has given him stage time with bands and orchestras around the world and a spot on the judging panel of the TV show, The Sing-Off. For this tour, he'll perform piano-vocal works for an intimate feel.
5. Black Violin
October 23
Embassy Theatre
Black Violin blends classical and hip-hop music together for a one-of-a-kind musical experience. The group's message encourages audiences to overcome stereotypes, break down cultural barriers, and join together as one. Don't miss Black Violin on their Impossible Tour this fall!
6. Heather Headley
October 24
The Clyde Theatre
Broadway star and Fort Wayne's very own Heather Headley returns home for a special performance at The Clyde! Headley, a Tony Award-winning actress and Grammy Award-winning singer, is praised for her Broadway performances in Aida, The Color Purple, The Lion King, and more. Her hometown show this October will be nothing short of spectacular.
November 21
Memorial Coliseum
If you're a country fan, Chris Young's Fort Wayne concert should definitely be on your calendar. The country star has topped the country charts with songs like Raised on Country and Drowning, and you can hear these hits and more at the fabulous Allen County War Memorial Coliseum. 
8. The Temptations
November 22
The Clyde Theatre
The Temptations are a legend, with hits like "My Girl" cementing their spot in the music history books. This Motown band is coming to The Clyde in November, and you should get your tickets now—this show is likely to sell out!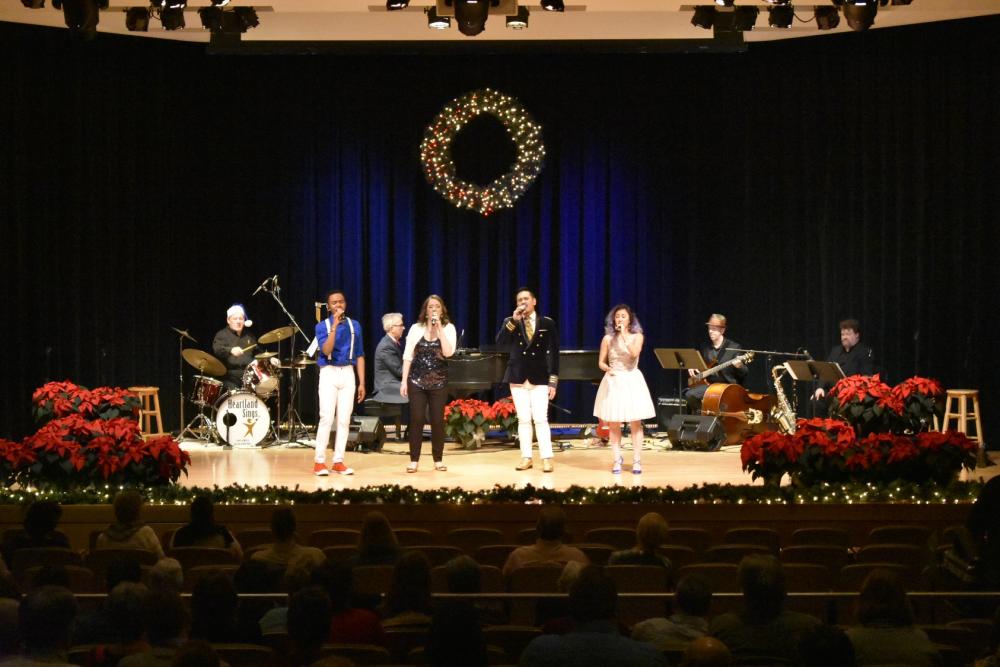 December 8
Allen County Public Library
This will be my first Jingle Bell Jazz in the audience rather than onstage, and I'm excited to see the show from the other side! This mix of a cappella and accompanied music by Heartland Sings is equal parts impressive and fun.
10. Five Finger Death Punch
December 9
Memorial Coliseum
LA-based heavy metal quintet, Five Finger Death Punch, is one of the most successful bands of its kind to emerge in the last ten years, with one gold and several platinum albums. This concert is one you won't want to miss! 
11. Straight No Chaser
December 10
Embassy Theatre
I was in an a cappella group in college, so I know how hard it is to harmonize with a group of singers sans instruments (not to mention the beatboxing). Indiana group Straight No Chaser, now an internationally-recognized group, is a prime example of a cappella at its finest.
12. Fort Wayne Philharmonic: Messiah by Candlelight
December 19
First Wayne Street United Methodist Church
The Philharmonic's popular Messiah by Candlelight series, featuring a full orchestra, choir, and soloists, is packed every year. I was in the audience last year, and I highly recommend it. 
 
The perfect concert is waiting for you in Fort Wayne, Indiana this fall or winter. Grab your tickets and plan your music lover's getaway weekend!