When I think of Christmas performances, my mind automatically goes to Handel's Messiah (Hallelujah!) and The Nutcracker. While Fort Wayne, Indiana offers both of these beloved holiday classics, this city also proffers some great options more off the beaten snowy path. If you'd like to try something different this December, check out one of these unique holiday performances. They're sure to make your holiday season one you'll never forget! 
4 Unique Holiday Performances in Fort Wayne, Indiana

Jingle Bell Jazz
December 8 — 2:00 p.m.
Allen County Public Library
Jingle Bell Jazz features a variety of accompanied and a cappella vocal compositions for a quintet of professional voices. This Heartland Sings performance a real treat and even includes some original compositions. Although I won't be on stage this year, I know some of my music will still be in the show, including the cheeky Wintertime Blues (for anyone who's ever had to scrape ice off their windshield!).  If you're a fan of New York Voices, Pentatonix, or The Real Group, this is one performance you won't want to miss. 
Jim Brickman: A Christmas Celebration
December 12 — 7:30 p.m.
Auer Performance Hall at Purdue Fort Wayne
As a major Midwest city, Fort Wayne attracts many excellent touring productions, including this one. Jim Brickman is a Grammy-nominated performer and songwriter who has collaborated with the likes of Lady Antebellum and Olivia Newton-John. His Christmas tour, which features singer Anne Cochran, violinist Tracy Silverman, and guitarist Luke McMaster, is coming to Auer Performance Hall on the Purdue Fort Wayne campus (in the building where I teach, no less!) this year. It promises to be fun and family-friendly, with plenty of sing-along opportunities. 
Broadway at the Embassy: Cirque Dreams Holidaze
December 17 — 7:30 p.m.
Embassy Theatre
Broadway director Neil Goldberg assembled this half-Broadway, half-Circus confection of a show, featuring a lavish set and countless glittering costumes. Acrobats, singers, and more perform their way through Thanksgiving, Chanukah, Christmas, and New Year's during a thrilling two-hour span. Cirque Dreams Holidaze will definitely be a season highlight for you and your family, especially if you love Broadway, circuses, and high-budget, Vegas-style entertainment.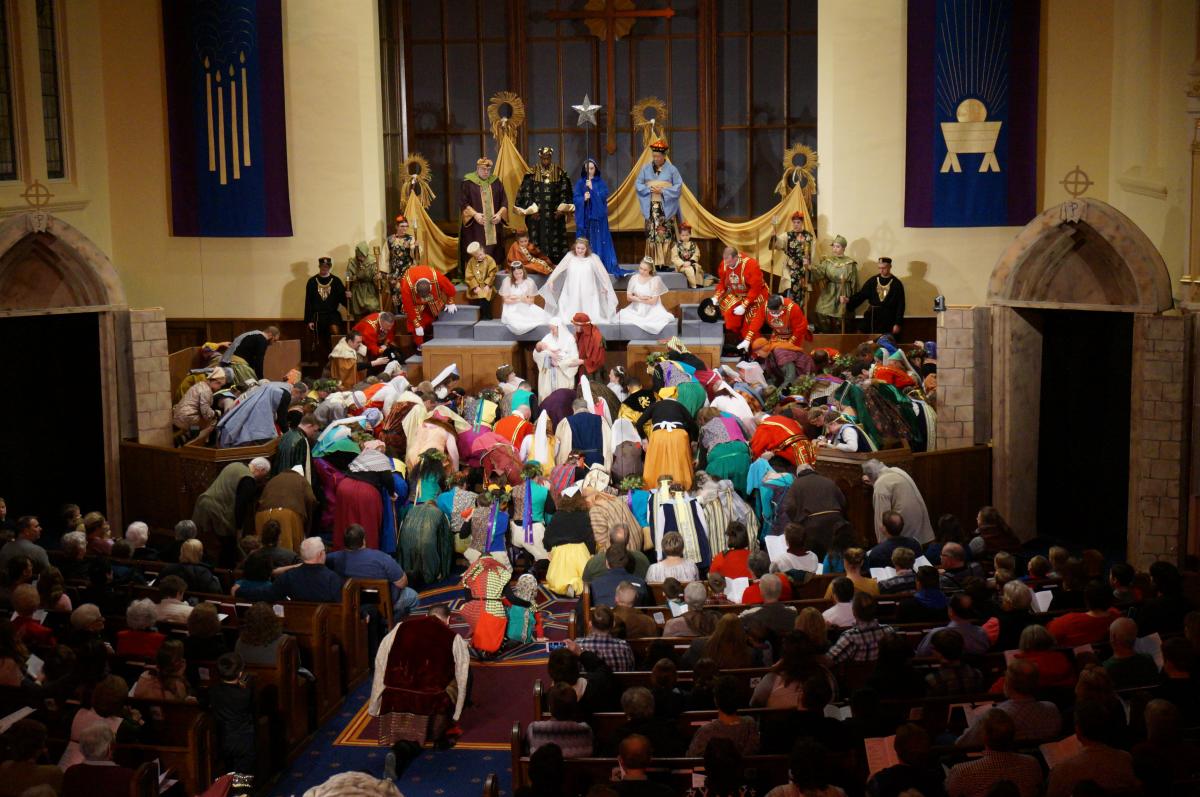 December 29 and 30 — 5:30 and 8 p.m.
Plymouth Congregational Church of Fort Wayne
The Boar's Head and Yule Log Festival is an impressive community effort now in its 45th year. With 300 performers and crew members, a $20,000 annual budget, and orchestral and choral music, this is not your average neighborhood production! I've sung in the choir several times, and I was completely astounded during the first dress rehearsal at the sheer magnitude of the Boar's Head festival! This is a very popular event, so reserve your spot now. Tickets are free, but you do have to order them.
Discover more concerts and shows in Fort Wayne with our 2019-2020 Arts Season Preview.